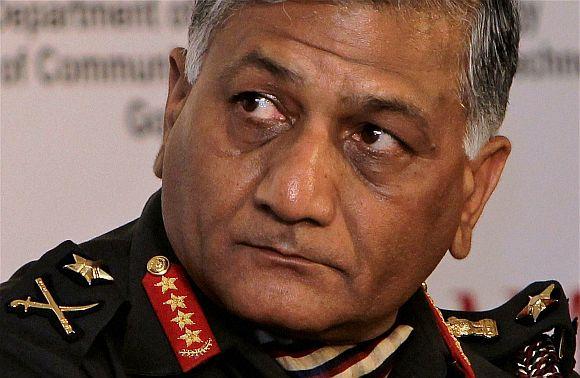 Former Army Chief V K Singh's claim that money was paid to ministers in Jammu and Kashmir from secret funds set off a political storm today with ruling National Conference and ally the Congress daring him to name the beneficiaries amid a demand for a Central Bureau of Investigation probe.
As the NC threatened legal action against Gen (retd) Singh if he failed to name the ministers, Union Home Minister Sushilkumar Shinde said that the government was ready to probe if the beneficiaries were identified.
The Congress dubbed Singh's remark as irresponsible and not in national interest while the NC said he has done something "extremely wrong" on the issue of funding of political parties. "V K Singh should name politicians. He should reveal the names (of those to whom money was allegedly paid). If details are given, we can investigate," Shinde said.
In a statement bearing signatures of all the present and former NC ministers, the ruling party said it will be forced to take legal recourse if he failed to name the ministers.
It also said that the ministers concerned in the Omar Abdullah cabinet will quit if they are named by Singh, calling his allegations "absurd and far from truth". Singh on Monday claimed that "certain ministers" in J&K are given money by the Army for "stability" and that this has been going on since Independence.
Farooq Abdullah, President of J and K's ruling NC, demanded a CBI probe into the allegations made by Singh. Singh's remark drew a sharp reaction from the Congress with former Chief Minister Ghulam Nabi Azad expressing shock and a party spokesman slamming him for his irresponsible" statement.
"I have no knowledge about this and I am as curious as you are to know about the names of the persons who were being paid and who are being paid," he added. Congress spokesperson P C Chacko said "irresponsible" statements from Singh brought "disgrace" to the army.
J&K Sports Minister and State Congress leader Taj Mohiuddin dared the former army chief to name the ministers who were given funds. BJP spokesperson Nirmala Sitharaman said the issue is not about an individual but about the weakening of an institution.
"That the government is doing all this (targeting Singh) is wrong as these are matters or national security," she said.
Assam Chief Minister Tarun Gogoi also waded into the row over Singh's remark, saying if he discloses Singh's advice to him years ago on counter-insurgency operations as the then chief of Eastern Army Command it would be a "big embarrassment" to everyone.
"If I reveal what V K Singh had advised me to do as Eastern Army commander, it would be embarrassment to everybody," Gogoi told reporters without elaborating.
"Union Minister Rajiv Shukla said Singh's remark was not in national interest and that persons, who have held such high positions like the army chief, should not make such statements after retirement without any substance.
Maintaining that it had never compromised the integrity of office, NC said the leaders which included senior Ministers Abdul Rahim Rather, Akbar Lone and Chowdhury Mohammed Ramzan, said "Singh's generalised remarks are absurd and far from truth."
"If the former army chief doesn't come out with facts, we will deem his accusations and allegations as defaming us with malafide and malicious intent and hence we will be compelled to take legal recourse," the statement, which was released to media by Nasir Wani, provincial President of the NC, said in response to the allegations made by Singh.
"We the ministers and former ministers of the National Conference strongly demand that the former General should come out with the names of all alleged recipients of money from the army," it added. J&K Sports Minister and state Congress leader Taj Mohiuddin dared the former army chief to name the ministers who were given payments.
Mohammed Yusuf Tarigami, the leader of the state's CPI-M unit, said by making such claims, Gen Singh has "insulted" the voters of the state.
Bharatiya Janata Party's Nirmala Sitharaman while maintaining that "washing of dirty linen in public" is not good, however, clarified that it is not sitting in judgement over who -- the government, army or Gen V K Singh -- are right or wrong.
Terming the whole matter as "highly sensitive", she lamented that the government's attitude will only help India's enemies and urged that the government handle the matter with discretion.