General Qamar Javed Bajwa, an expert in Pakistan-occupied Kashmir affairs, on Tuesday took over as Pakistan's new army chief succeeding General Raheel Sharif and promised to improve the tense situation at the Line of Control soon.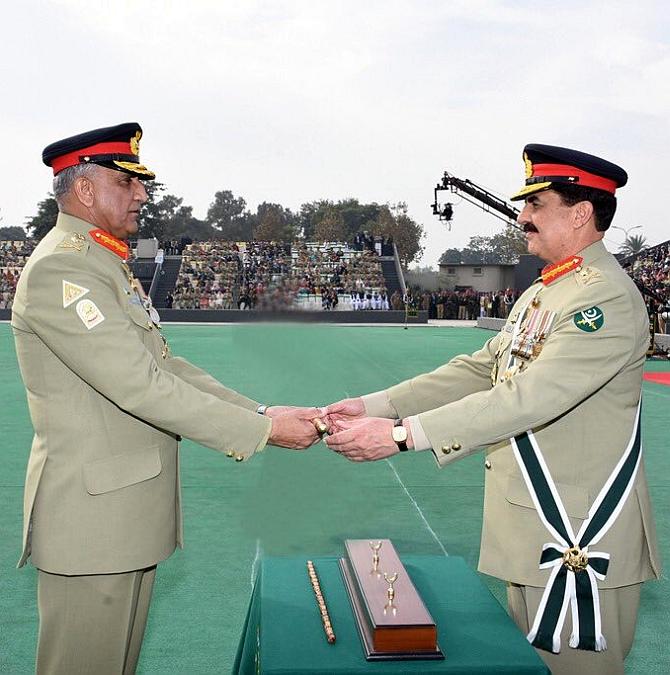 General Sharif handed over the command of world's sixth-largest army by troop numbers to 57-year-old General Bajwa at a ceremony held in the Army Hockey Stadium, close to the General Headquarters in Rawalpindi.
Prime Minister Nawaz Sharif on Saturday appointed General Bajwa as Chief of Army Staff by elevating him to the rank of a four-star general.
'The situation at the LoC will improve soon,' he was quoted as saying by Geo News.
General Bajwa sought support from the media to play a role in the keeping the morale of troops high. He said he had a heavy responsibility on his shoulders.
General Bajwa took over the command of the army in garrison city of Rawalpindi, where outgoing military chief Gen Sharif handed over the symbolic baton at an impressive ceremony. Several high-level military and civilian officials attended the ceremony during which national songs and war anthems were played by traditional military bands.
General Bajwa earlier served as Inspector General of the Training and Evaluation and also commanded the famed 10 Corps, the Pakistan Army's largest, which is responsible for the area along the Line of Control.
As a major general, Bajwa led the Force Command Northern Areas. He also served in the 10 Corps as lieutenant colonel. He also served with a United Nations mission in Congo as a brigade commander alongside former Indian army chief Gen Bikram Singh, who was also there as a division commander.
The new army chief has wide experience of Line of Control affairs due to his extensive involvement with Pakistan occupied Kashmir and northern areas.
According to reports, General Bajwa's 'pro-democracy credentials' and his low-profile influenced the prime minister to appoint him to the powerful post of army chief superseding four top generals.
The military has been in charge of the country for more than half of Pakistan's nearly 70-year history since independence from Britain.
His appointment coincides with the rising tensions and heavy exchange of fire at the LoC. Analysts believe General Bajwa's announcement that the LoC situation would improve might be a reconciliatory gesture towards India.
However, Gen Sharif was not so conciliatory in his final speech as the army chief, as he cautioned India against adopting an aggressive stance in Kashmir.
In his final speech as the army chief, Gen Raheel Sharif today warned India against adopting an "aggressive stance" in Kashmir and asserted that mistaking Pakistan's "policy of patience" for weakness would be "dangerous".
Raheel, 60, said in recent months, "India's increasing terrorism and aggressive stance" in Kashmir have "endangered" the region.
"India should know that mistaking our policy of patience for weakness would be dangerous," he said.
"This is reality, that in South Asia, lasting peace and progress is impossible without solution of the Kashmir issue. For that, international community's special attention is necessary," he said.
"It is important that all institutions work together against external threats and internal threats. For this, we will need to follow the National Action Plan in letter and spirit," Gen Raheel said, adding, "The army will remain alert to threats, whether external or internal."
Photograph: Inter Services Public Relations/Pakistan