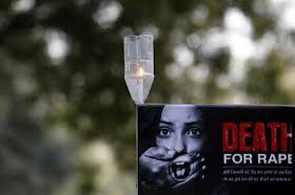 The Delhi police on Tuesday sought dismissal of a plea by one of the December 16 gang-rape accused seeking permission of a special court to undergo lie detector test, saying it is an "inadmissible evidence" even when done with "consent".
Special Public Prosecutor Dayan Krishnan said in his reply to the application before Additional Sessions Judge Yogesh Khanna, "The application filed by accused Vinay Sharma seeking administration of a polygraph test deserves to be dismissed."
"A polygraph test is an investigative device and this court is in the midst of a trial wherein 68 witnesses have been examined till date. It is further submitted that a polygraph test is per se inadmissible even when it is done voluntarily and with the consent of the accused," Krishnan said in a two-page reply.
"This court may be pleased to dismiss the application which seeks to introduce evidence which is wholly inadmissible and which is also merely in the nature of an investigation," the prosecutor said relying on an apex court judgment.
Vinay, who along with five others, allegedly gangraped a 23-year-old girl in a moving bus here, had in his application, filed through his counsel A P Singh, said he is a student of BA first year and was working with a gym to earn his livelihood.
He had said, "He is innocent and would want to undergo a lie detector test to prove that at the time of the alleged gang rape, he was at a function in south Delhi along with other co-accused Pawan Gupta and his friend and had later, as a daily practice, gone in the bus to sleep due to paucity of space in his house."
Vinay's counsel had said, "These facts can be proved only by way of a lie-detector test. The accused (Vinay) has been falsely implicated in the case and he is in judicial custody since December last year without any proper reason...," the counsel had said, claiming Vinay is innocent and has no previous criminal record in which he was convicted.
The lawyer had claimed Vinay was not in the bus on December 16, 2012 night. He also said the prosecution story is "totally false" and has been "fabricated" by them under government pressure as the public had come on the road due to the brutal assault on the girl and her male friend by six men, which led to the victim's death on December 29.
The judge on Tuesday also recorded the statement of a Delhi police sub inspector, who was part of the police team that had accompanied accused Vinay and Pawan Gupta to their residences to seize their clothes and victims' stolen belongings, which were also identified by him in the court.
Meanwhile, the court summoned the victim's male friend, a software engineer, to be cross-examined by the defence counsel on Wednesday.
He was the first prosecution witness to depose before the court since the court started conducting proceedings early this year on a day-to-day basis.
With the proceedings against the main accused Ram Singh having abated after his death on March 11, the remaining four adult accused Mukesh, Vinay, Akshay Singh and Pawan are facing trial in the case for rape and murder of the girl. The sixth is a juvenile and is facing proceedings before the Juvenile Justice Board.