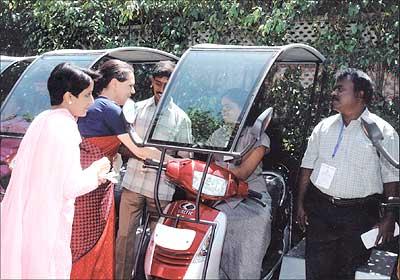 Thirty two-year-old Bhuma runs a grocery shop in Varandivel village in Tamil Nadu's Thoothukudi district. This is not her first venture. Afflicted with polio on both her legs, Bhuma crawls but never weeps. She always has a bright smile on her extremely pretty face.
Gifted with guts, this brave girl has never cited her handicap as a reason to seek special attention or favours.
After completing her Higher Secondary School, she tried to graduate through distance education. But unable to manage without teachers, she gave up and took up work in a STD booth. At the same time, she used to take lessons in a computer centre.
Bhuma then applied to Indian Oil Corporation for a petrol pump under the handicapped quota. Shockingly, the IOC ignored her application to give the pump to a partially-deaf wife of a Chief Education Officer.
Shocking because on one side we have a polio-afflicted single woman while on the other, it is the wife of a highly-placed government servant and mother of two. The partially deaf is considered more handicapped than someone who has
lost the use of both legs to polio.
Undeterred, Bhuma decided to start a grocery shop where her father used to run a tea shop. The shop started with its share of problems but she surmounted them all. She now sells goods worth Rs 1500 every day -- very good by village standards.
She also repaid the loan amount of Rs 25,000 that she took from the co-operative bank. But she now wanted a bigger loan from the State Bank of India. She sought help from this
rediff
correspondent, who readily agreed and convinced the bank manager to grant her the amount.
Meanwhile, the Rajiv Gandhi foundation has given her a scooter that has been modified for her.
Accompanied by her younger brother, this girl went all the way to Delhi, where she was given the keys of the scooter (as seen in the image) by Congress president Sonia Gandhi in person. She has displayed the photo in her shop. She is proud of it.
Me, I am proud of this extremely courageous girl. The good Lord, who saw it fit to give her polio, thought it fit to put an extremely strong heart in that little body. May she rise to greater heights.
Reportage: A Ganesh Nadar