A sketch by John Henry Amshewitz and correspondence to Sarat Chandra Bose's family will go under the hammer at a Sotheby's auction on July 11.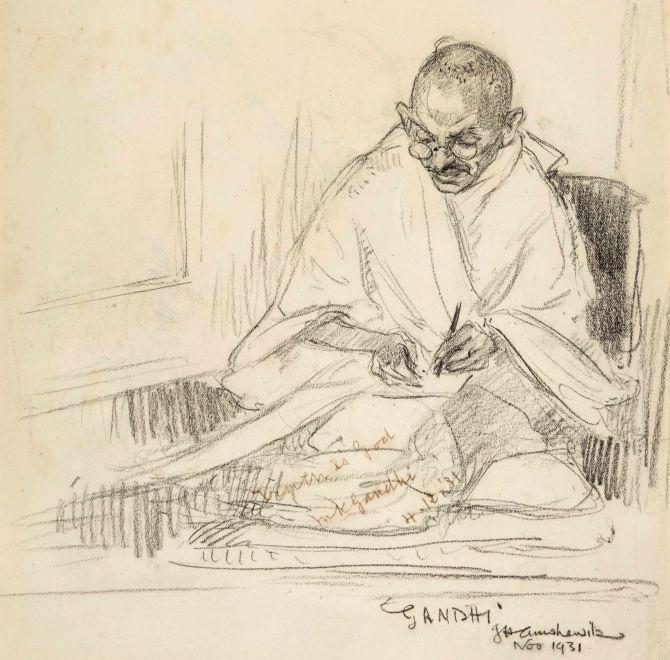 IMAGE: The pencil sketch was drawn when Mahatma Gandhi was visiting London for the Round Table Conference in 1931. Photograph: PTI Photo
A previously unknown pencil portrait of Mahatma Gandhi, drawn from life in 1931, is set to go under the hammer at a Sotheby's auction next week and may fetch between £8,000 and 12,000 (about Rs 670,000 to Rs 1 million).
The sale on July 11 by Sotheby's will also include a collection of handwritten letters by Gandhi to the family of Sarat Chandra Bose, the elder brother of Subhas Chandra Bose.
'Gandhi usually refused to sit for formal photographs, let alone a portraitist, making this an extremely rare portrayal of the political leader at work,' Sotheby's said in a statement.
'The sketch shows Gandhi writing with a look of intense concentration whilst seated on the floor, and is inscribed by him with the words "Truth is God/MK Gandhi/4.12.'31",' the auction house added.
The pencil drawing is one of a number of portraits created by artist John Henry Amshewitz when Gandhi was visiting London for the Round Table Conference in 1931, a series of conferences organised by the British government to discuss constitutional reforms in India.
Gandhi stayed at Kingsley Hall at the time, a community centre in London's East End, at the invitation of one of its founders, Muriel Lester who had previously stayed at one of Gandhi's ashrams in India.
The pencil portrait, which was inscribed by Gandhi the day before he left Kingsley Hall, was given to a local resident who was closely associated with Kingsley Hall throughout her life and has remained in her family ever since.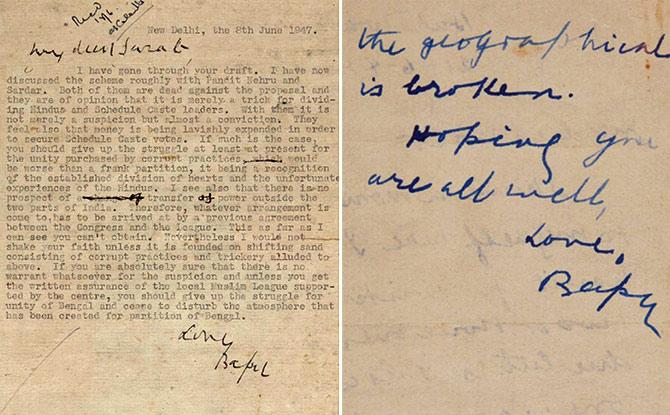 IMAGE: The letter Gandhi wrote to Sarat Chandra Bose. Photograph: Sotheby's
The set of handwritten letters, estimated to fetch between £23,000 and £33,000 (Rs 1.9 million to Rs 2.8 million), include key comments on the pivotal partition of Bengal (into East Pakistan and West Bengal) in the months before Gandhi's assassination.
Sarat Chandra Bose was an outspoken critic of Partition and proposed an independent united Bengal. He had his allies, but formidable enemies in the Congress, as well as in the Muslim League.
'Gandhi was initially supportive of Bose's efforts, but shifted his position,' Sotheby's pointed out.
'He had little sympathy for Bose's vision of a socialist Bengal and, coming to see that the political forces in favour of Partition were irresistible, turned instead to trying to mitigate its effects,' the auction house said.
In one of the letters, Gandhi writes to Sarat Chandra: 'You should give up the struggle for unity of Bengal and cease to disturb the atmosphere that has been created for partition of Bengal.'
Dating from the mid-1940s, the other letters in the collection affirm Gandhi's love for the Bose family as he recalls visits to their home in Calcutta (now Kolkata) and discusses the future of India with Amiya Nath Bose, Sarat Chandra's son.