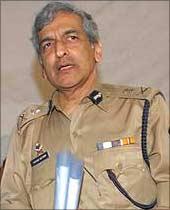 With Maharashtra Director General of Police A N Roy retiring this month-end, Director General (Anti Corruption Bureau) Hasan Gafoor has emerged the frontrunner for the top post, given his seniority, home department sources said.
Gafoor was shunted out from the high profile post of Mumbai police commissioner in the aftermath of the 26/11 Mumbai terror attacks and was made managing director of the Police Housing Corporation in the rank of director general of police.
Mumbai Police Commissioner D Sivanandan, an additional DG rank officer, is due for promotion and is also likely to be elevated before June second week.
A panel headed by Chief Secretary J P Dange is finalising its report on the selection of the new DGP and would submit its recommendations to Chief Minister Ashok Chavan in a couple of days as the 1972-batch Indian Police Service officer retires on May 31, they said.
If seniority is given priority for the appointment of DGP, the 1974 batch IPS Gafoor might succeed Roy.
Next in seniority are P P Shrivastava, DGP (Housing), D Sivanandan, additional DG (Mumbai police commissioner), Ajit Parasnis additional DG rank (State Reserve Police Force).
There are three DG posts in the state -- DGP-Maharashtra, DGP (ACB), DGP (Housing).
In case Sivanandan is promoted, there are five IPS officers in the race for the post of Mumbai police commissioner. They are Parasnis, Special Operations chief Sanjeev Dayal, Criminal Investigation Department chief S P S Yadav, Pune Police Commissioner Satyapal Singh and Additional DGP (Traffic) Arup Patnaik, sources added.
Image: Hasan Gafoor