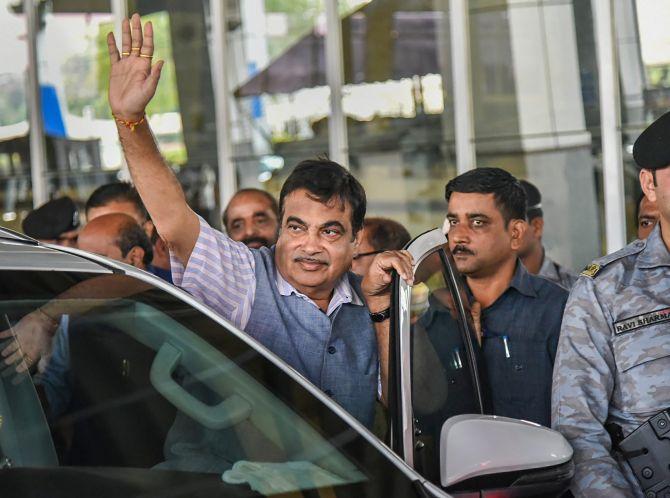 Union minister Nitin Gadkari had a health scare on Friday after he fainted during a public event in Maharashtra's Ahmednagar district.
The 61-year-old Bharatiya Janata Party leader fainted at the convocation of the agriculture university at Rahuri while the national anthem was being sung.
He attributed the episode to low sugar and low oxygen supply to his body as he was wearing convocation robes.
"I felt some suffocation during the event. The pandal (at the venue) was air-tight. I was wearing the robes of the convocation ceremony, that is why there was less oxygen. That is also why I fainted. My health is alright. (I have) no problem of blood pressure or sugar (now)," Gadkari told media.
Earlier, the minister had attributed the incident to low sugar in his body.
'Had slight medical condition due to low sugar. I have been attended by doctors and I am doing well now. I thank all of you for all the well wishes,' Gadkari had tweeted shortly after the incident.
A video grab of the event shows Maharashtra Governor Ch Vidyasagar Rao, who was standing beside him, supporting Gadkari after he fainted.
Gadkari was examined by a team of doctors present at the venue. His blood pressure was checked and he remained on his seat on stage for about 10 minutes, after which he walked to his vehicle.
He visited the Saibaba temple at Shirdi and flew to his home town Nagpur, landing there at 4.30 pm.
At Nagpur airport, Gadkari said he had suffered vertigo (a sensation of spinning dizziness).
"I got a vertigo due to extreme heat and suffocation during the programme. My blood pressure and blood sugar are normal. Because of this incident a lot party workers are worried, but there is no need to worry. As per the doctor's advice, I will be undergoing certain medical check ups," he said.
Nagpur BJP city chief Sudhakar Kohale said Gadkari will attend the Khasdar Sanskrutik Mahotsav at Nagpur on Friday evening as scheduled.
Vijay Darda of Lokmat group tweeted, 'Just spoke to @nitin_gadkari ji. Thank God, he is fine. He said whenever he wears convocation attire he feels dizzy. He also said it was suffocating due to tightly closed pandal. His sugar went low. Nothing to worry. He's hale & hearty. May he be blessed with long & healthy life.'
Nationalist Congress Party chief Sharad Pawar said as he has asked Gadkari to take care of his health.
'Sometimes hard work takes a toll on health! @nitin_gadkari ji please take care. I wish you a very good health!!' Pawar tweeted.
Meanwhile, Gadkari's visit to Goa on December 10 has been cancelled, state Public Works Department Minister Sudin Dhavalikar said.
Gadkari was scheduled to inaugurate a bridge across Khandepar river in North Goa.
"I have received communication from Gadkaris office that he has a meeting in the national capital on December 10. Also, due to his health condition, he will not be able to come to Goa,"Dhavalikar told PTI.