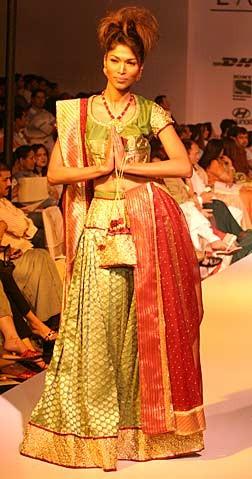 Designer Vidhi Singhania, who makes her debut at the Lakme India Fashion Week this year, is known for propagating the Kota handloom weave.

Vidhi used embroidery and fused other handlooms with the stylised weave to come up with crushed skirts, short waistcoats, jackets, trousers, dhotis and churidars. Her look encorporated both casual to evening wear.

She used a range of Indian textiles like Banarasi brocades, tissues and silks. The colour palette was festive with rose, indigo, green, maroon and indigo all enhanced with gold yarn woven into the fabric.

Included in the collection were pouches and potlis that made great accessories (see Vidisha Pavate in the picture).

Vidhi's clothes are priced between Rs 3,000 and Rs 14,000.
Photograph: Jewella C Miranda
Editorial support: Imran Shaikh