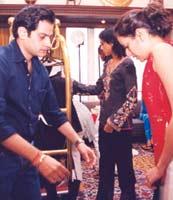 The retail chain Shoppers' Stop has tied up with designer Raghavendra Rathore to launch a new co-branded range of merchandise.
The production and retailing will be handled by Shoppers' Stop, while the designing and quality control will Rathore's responsibility.

The duo made the announcement at the Lakme India Fashion Week 2004.
Rathore, who is first cousin to Maharaja Gaj Singh of Jodhpur, said, "It is a great step for the industry. This is the kind of thinking that designers have been looking for. It will lead to a setup where designers only have to do the designing and production; marketing and other aspects will be taken care of by others."
The yet-to-be-named line will retail exclusively at all Shoppers' Stop outlets across the country.

The line is being priced between Rs 500 and Rs 1,500.

"The idea is to creat an aspirational brand keeping in mind price sensitivity. We think that tieups like these will help us cater to our loyal customers and grow our audiences," says Govind Shrikhande, director (buying and merchandising) for Shoppers' Stop.

The brand, which will be owned 50:50 by both the partners, will have only womenswear sold as separates in fusion and westernwear initially. Rathore will then go into menswear.
Photograph: Jewella C Miranda
Editorial support: Imran Shaikh
With inputs from PTI