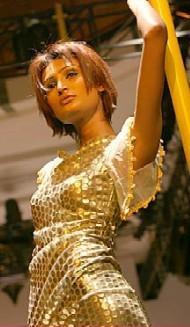 Rina Dhaka, who opened the grand celebration of the Lakme India Fashion Week 2004 on April 27, on what's hot, what's not and what to look out for!
WHAT'S IN
The basic simple vest or the ganjee: The good old ganjee is the best thing this summer and a must-have this season.
Long flowy skirts: Nice flowy skirts are another must-have. They are in!
Anything jewelled and rich that can be worn on something inexpensive: I think there is a reverse look happening. The trend is to wear something very expensive on fabric that is made to look inexpensive -- sort of the rich on poor look.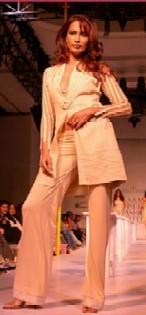 WHAT'S OUT
Miniskirts: Miniskirts must go probably to make a comeback later. For now, they are a big no!
Spaghetti tops: I think they are really overdone. We need to throw it out for a while.
The boot cut pant: The boot cut has to go. It's time for slim cut pants.
LOOK OUT FOR
Hand decorations: Beautiful hand accessories like gloves and bangles -- they are a must-have.
Hats: If you like hats and carry them off well, they are definitely in
Wigs: Wigs are a big kill this season. The 1940s bob look that I showed on the ramp today is my interpretation of how happening they are going to be.
Photographs: Jewella C Miranda
Editorial support: Imran Shaikh