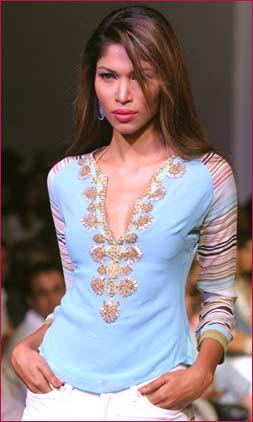 Don't throw the kurta out of your wardrobe yet.
Kurtas with pants, kurtas teamed with miniskirts, kurtas with pleated skirts -- Monisha Jaising created a collection just to make the statement that the kurta is still in (see model Vidisha Pavate in the picture).
"I have tried to make the kurta a little more funky though. I put in leather, graffiti, even printed some poems on it," she says.
She also embellished her kurtas with Swarovski crystals and mirrorwork.
In terms of colour, she played safe with beige, pink and yellow.
She also showed a line of T-shirts and spaghetti strap tops with applique work, printed graffiti and little red Cupids.
The showstopper was a pink and beige bridal lehenga worn by Michelle Innes.
Monisha says it is the first time she has designed a lehenga. To make it funky, she teamed it with a printed spaghetti top instead of a choli.
The lehenga, which costs Rs 8,000, was the most expensive outfit of her collection.
The entire collection is priced between Rs 1,500 and Rs 8,000.
Photograph: Jewella C Miranda
Editorial support: Imran Shaikh
Click on the images below for a bigger picture