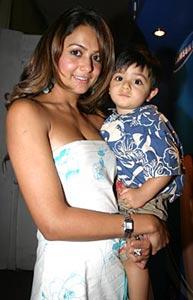 Former MTV VJ and actress Amrita Arora was at the Lakme India Fashion Week to cheer sister Malaika who was walking the ramp for good friend Wendell Rodricks on April 29.

Amrita bounced Malaika's son (see picture) -- to whom Wendell is godfather -- on her lap even as she rooted for her sister.
Priya Ganapati caught up with her for five questions about her wardrobe.

Why did you choose to wear this outfit for the Lakme India Fashion Week?

I think it's a very summery, very flowery kind of outfit. It makes me feel very cool and I thought that would be a good idea in Delhi's summer heat. I also think the outfit has a very Audrey Hepburn look, very much like what she wore in Breakfast At Tiffany's. I love that look.

What do you have too little of in your wardrobe?

Saris! I have just three saris in my wardrobe. I need to get more.

What is the most inexpensive outfit that you have ever bought?

I bought a really nice dress in London that worked out to about Rs 150. It is a very beautiful dress and every time I wear it I get a lot of compliments. It just goes to show that you don't have to buy expensive stuff to look good.

What is the one outfit that you love and can't do without in your closet?

My really low waisted blue denim jeans. I just love it. I live in it all the time and I just can't do without that pair.

If you could only choose one make-up item to wear, what would it be?

A lip tint. It's a very pink lip tint by MAC. It can also double up as a tint for your cheeks to give it a rosy pink look.
Photograph: Jewella C Miranda
Editorial support: Imran Shaikh