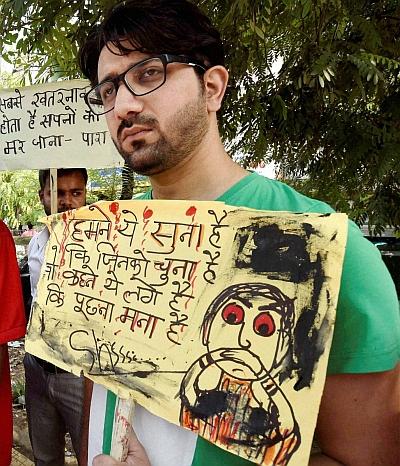 The 139-day strike by the students of the Pune-based Film and Television Institute of India ended on Wednesday with their main agenda -- the removal of Ganjendra Chouhan as chairperson of the institute and cancelling of the appointments of four members to the FTII society -- remaining unanswered.
An FTII students' body representative said they will not sacrifice academics anymore for a government that is "deaf and a bully".
Referring to FTII Students Association's talks with the Information and Broadcasting Ministry which could not end the stalemate, representative Vikas Urs said the ministry conveyed the impression that it had no mandate to take a decision in the matter.
"Now, it goes beyond the five appointments (of Chauhan and four FTII society members) which we had questioned. The right wing attitude is exposed and we know who is running the country," he said, apparently targeting BJP's ideological mentor RSS.
He said, "Although the FSA has decided to call off the strike, the students will not have any proactive engagement with the ministry until the appointments issue is resolved."
When asked how would the students react to Chauhan's taking charge, another FSA respresentative Rakesh Shukla said, "Our protest has been peaceful so far and it will continue like that. He is not acceptable to us."
Urs said the students will now "expand and take their battle forward" after having been successful in making the common man understand the concerns raised by them.
Another FSA representative Yashaswi said, "The government was stifling voice of dissent and adopting repressive measures. There is a clear attempt to impose one ideology."
To a question about possible victimisation of students, Shukla said, "We certainly have that fear."
"The success of our agitation lies in the fact that we took our concerns to common citizens. Filmmakers, artists and others should now take our battle ahead. They should take our genuine concerns forward," a representative of the protesting students said at a press conference in Pune.
The students had gone on an "indefinite strike" on June 11 in protest against the appointment of television actor Gajendra Chauhan as the president of the institute's Society and chairman of its Governing Council.
They were also opposed to four other 'political' appointees who, they alleged, lacked the artistic and cinematic expertise to secure a place in the FTII Society.
The strike, which generated wide debate and gathered support from various quarters, forced the government to open a dialogue with the students.
Although the two parties held as many as eight meetings, there could not arrive at a mutually agreeable solution.
---
Will try to win students over through my work: Chauhan
FTII chairman Gajendra Chauhan welcomed the decision of the institute's students to call off their strike and said he will now focus on winning them over through his "work and positivity".
Though the students ended their strike, they have made it clear that their protest against the appointment of Chauhan as its chairman and four other FTII society members will continue.
But Chauhan is unfazed and said he will make all possible effort to end their protest.
"My appeal from day one has been that strike is never a solution. It is now over. I will try to end this protest through my work and positivity. We will work together. Life is full of challenges. I accept them... this is a challenge and I will do my best to shoulder this responsibility. My attempt will be to have good relations with the students," Chauhan, best known for his role of Yudhishthir in teleserial "Mahabharata", said.
Chauhan said he will soon form a governing council at the Pune-based institute.
"I am very happy for the students. I am happy that they have taken this decision. I am confident that in the future, we will form a governing council in FTII and start working there.
"I want to take everyone along, students and the governing body. It is not possible for one person to work, it is always a team work. Our governing council will work with everyone," he said.