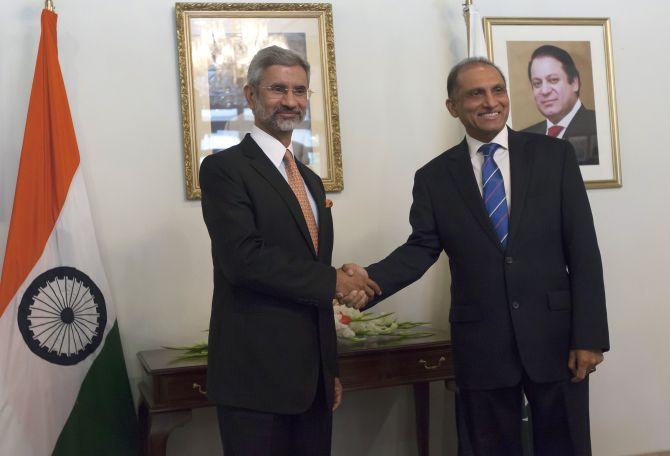 The foreign secretary-level talks between India and Pakistan "failed" to break the stalemate and did not produce any significant measure of forward movement as the two sides only raised issues important to them without conceding ground to the other, the Pakistan media said on Wednesday.
Pakistan Foreign Secretary Aizaz Ahmad Chaudhry met his Indian counterpart S Jaishankar in New Delhi on Tuesday on the sidelines of the Heart of Asia conference for their first formal interaction since their scheduled talks were deferred in the wake of the Pathankot attack in January.
The Express Tribune reported that Pakistan conveyed "its serious concerns to India over its spy agency's involvement in subversive activities in Balochistan and Karachi as talks between the foreign secretaries of the
two arch-rivals in New Delhi failed to break the stalemate in the bilateral dialogues."
Dawn in its report said the two foreign secretaries raised their respective preferred topics without apparently conceding much to the other.
"Pakistan's Foreign Secretary Aizaz Ahmed Chaudhry, predictably as happens in inclement diplomatic weather, raised the issues of Jammu and Kashmir and the capture of an Indian intelligence officer in Balochistan," the newspaper said.
The Nation reported that the top diplomats of India and Pakistan held talks after a hiatus of several months and both raised issues of their own concern and made demands from the other side on contentious issues.
It further said that though both sides called it a constructive session where they discussed "all issues", the low-key meeting did not produce any significant measure of forward movement.
The Urdu newspapers and electronic media also emphasised that RAW's involvement was the big issue in the talks.
The News International, known to be close to the establishment, also highlighted the spy issue.
However, it noted that "Mr Jaishanker firmly rebutted the allegations of India's involvement in Balochistan or other areas."