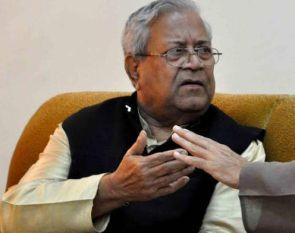 Assam Governor P B Acharya stoked a controversy after he reportedly said that "Hindustan is for Hindus", drawing sharp criticism from Congress which alleged that it was reflective of the divisive ideology of the Rashtriya Swayamsevak Sangh and the Bharatiya Janata Party which has led to incidents like Dadri lynching.
Acharya's attempt on Sunday to clarify the alleged remarks he made on Saturday at a book launch function further stirred the row after he said that "Muslims in India are free to go anywhere".
"Hindustan is for Hindus. There is nothing wrong with that. Hindus from different countries can stay here. They cannot be outsiders," the governor was quoted as saying by media.
As his reported remarks came under fire, Acharaya on Sunday said that what he meant was that all Indian-origin people, including Muslims, persecuted in any foreign lands were welcome in the country.
"We should keep in our mind, only because a person is persecuted because of his religion in any country, if Indian Christian is persecuted in Pakistan, he has to come to India. Where else will he go? Indian Christian, Indian Buddhist, Indian Jain, Indian Hindu.
"If a European Christian is persecuted or an European Hindu...if he is persecuted in Belgium, he cannot come to India...
"Indian Muslims are free to go anywhere. They can stay here if they want to stay here, many have gone to Pakistan. If they want to go to Pakistan, Bangladesh, they are free to. If they are persecuted there, Taslima Nasreen (author) was persecuted there, she came here. If they come we'll give them shelter. India is big-hearted," he said.
Congress on Sunday termed Acharya's remarks as "unfortunate and shocking" as they came from a person holding a "constitutional post".
"It is clearly indicative of the way RSS and BJP functionaries think and continue to think even when they are in a constitutional post. Bondage or umbilical cords with parent remote organisations, be it RSS and BJP should be severed when you assume a constitutional post," he said.
Singhvi said that the same ideology and philosophy has led to a culture of absolute divisiveness, intolerance, mutual enmity, trust deficit in the last 18 months and incidents like Dadri.
"You have been hearing from MPs, MLAs, ministers and now from a governor," he said.