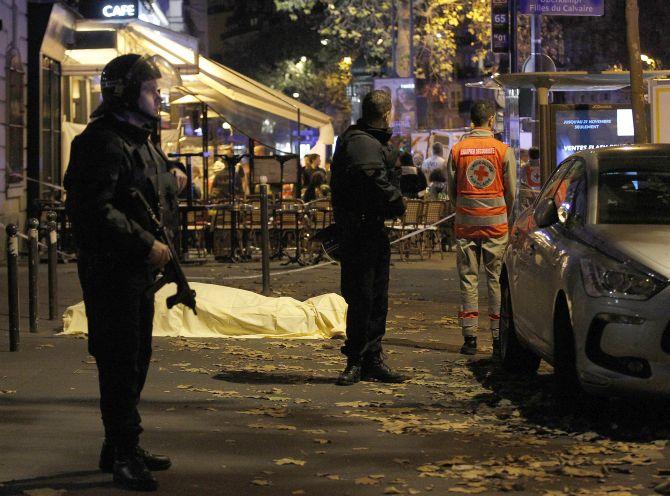 Condemning the deadly attack in Paris where over 150 people have been killed, defence experts on Saturday said that France has now become the biggest target of Islamic State terrorist group in Europe.
"It is a very serious concern for France because it is the biggest target of Islamic State in Europe. The IS has strong connections in France. They have contacts with the children and have been giving them training. It is also true that there is involvement of sleeper cells or sleeper agents in this attack," defence expert S R Sinho said.
"The attacks have taken place also because of the recent aggression of the Western countries like the United States, Britain and Russia against the IS. The terrorist group wants to show that nobody can control them and we can create huge destruction," he said.
The attack in Paris reportedly began at a soccer stadium where a match was underway as explosions set off. Simultaneously, terrorists armed with AK-47s and bombs strapped to them began attacking in different sites throughout the city.
A state of emergency has been declared in France and all borders have been seized until further notice while military reinforcements have been called in.
Another defence analyst, Uday Bhaskar, branded the attack as 'audacious' and said that this was going to unite the global communities against terrorism.
"It is very tragic that so many innocent citizens have lost their lives in this manner. Two issues stand out. One is the continuing challenge of terrorism of this particular nature and the vulnerability of the global urban clusters, if one could describe in that way," Bhaskar said.
"For a variety of reasons, Paris has been attacked more than once. There have been reports that the Islamic State has claimed responsibility. This in many ways is going to put the global focus on this particular entity as also the global anxiety about how does the global community provide the appropriate security framework to ensure that such attacks are prevented even as they are being planned," he added.
Bhaskar insisted that in many ways Paris has now become a target and perhaps this has to go with the manner in which the French media and magazines like Charlie Hebdo had taken a certain position as far as the malignancy of distorted Islamic ideology and related terrorism is concerned.
World leaders have reacted in shock condemning the attack and extended their full support to France in this horrific time.
Image: A victim's body lies covered on Boulevard des Filles du Calvaire, close to the Bataclan theater in Paris after gunmen stormed the area and opened fire on the locals. Photograph: Thierry Chesnot/Getty Images