Mumbai-based social activist Teesta Setalvad on Monday appeared before a sessions court in Ahmedabad in a case where she is accused of fabricating evidence to frame "innocent" people and defame Gujarat in connection with the 2002 post-Godhra riots.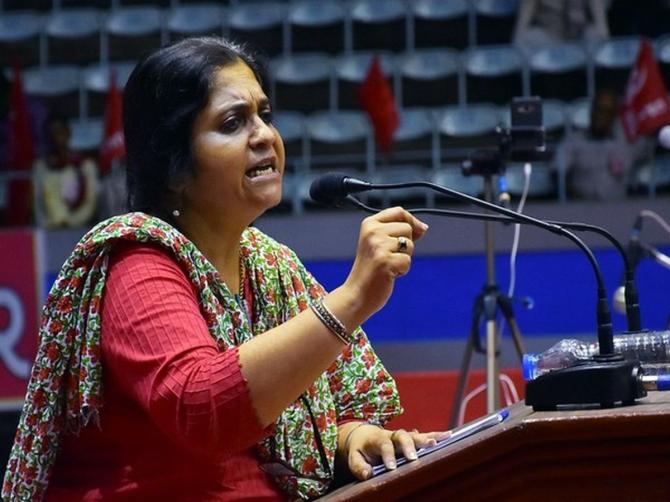 Setalvad, one of the three accused in the case who was released from jail in September 2022 on interim bail, appeared before additional principal judge Ambalal Patel for the first time after the matter was committed for trial in his court.
The court fixed April 3 as the next date of hearing.
Former state director general of police RB Sreekumar and ex-Indian Police Service (IPS) officer Sanjiv Bhatt are the two other accused.
The Ahmedabad police's crime branch had registered an FIR (first information report) against the trio in June last year and arrested Setalvad in the same month. A special investigation team (SIT) formed to investigate the case had filed a chargesheet in a metropolitan magistrate court on September 21 last year.
While Setalvad and Sreekumar are out on interim bail, Bhatt is serving a life sentence in a jail in Palanpur in Gujarat's banaskantha district in a custodial death matter.
The crime branch had registered the FIR against them after the Supreme Court last year dismissed a petition challenging the clean chit given by an earlier SIT to then-chief minister of Gujarat Narendra Modi and others in the 2002 riots cases.
The trio was accused of abusing the process of law by conspiring to fabricate evidence with an attempt to frame "innocent" people for an offence punishable with the death sentence in connection with the communal riots, which were triggered after a coach of the Sabarmati Express was torched by a mob near Godhra town.
In its 6,300-page chargesheet, the Gujarat police SIT cited 90 witnesses, among them IPS officer-turned-lawyer Rahul Sharma and Congress Rajya Sabha MP Shaktisinh Gohil.
Among the documentary evidence in the chargesheet was a copy of a complaint filed by Zakia Jafri, widow of slain former Congress MP Ehsan Jafri, in June 2006 in which she had accused 63 persons of wilful dereliction of duty in preventing the riots.
The FIR against Setalvad, Sreekumar and Bhatt was registered a day after the apex court dismissed the plea of Zakia Jafri, and observed, "At the end of the day, it appears to us that a coalesced effort of the disgruntled officials of the state of Gujarat along with others was to create sensation by making revelations which were false to their own knowledge."
They were booked under sections of the Indian Penal Code related to forgery, fabricating false evidence with intent to procure conviction of capital offence, instituting criminal proceedings to cause injury, framing incorrect record or writing with intent to save person from punishment or property from forfeiture, and criminal conspiracy.