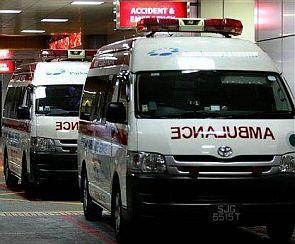 Three Members of Parliament were on Thursday rushed to a hospital in Delhi after they complained of choking and burning eyes following a pepper spray attack by a member during introduction of Telangana Bill in Lok Sabha while another MP was admitted for a heart condition after he collapsed during the fracas.
The pepper spray assault allegedly by Congress MP L Rajagopal left several MPs and parliamentarians coughing and teary-eyed and three MPs had to be rushed to the nearby Ram Manohar Lohia hospital.
Teluu Desam Party MP Narayana Rao, who was opposing the Telangana bill, collapsed in the Lok Sabha and was rushed to the same hospital.
"He came to the casualty with palpitation in chest and complained of uneasiness following which he was examined by a team of physicians and cardiologists. His blood pressure and pulse rate was found to be very high. He was resuscitated in the RR room and has now been shifted to coronary care unit (CCU)," said Dr H K Kar, medical superintendent of RML hospital.
He said the Rao had undergone angiography a week back at a hospital in Hyderabad and was advised bypass surgery.
"He was advised bypass surgery. Now based on the report we are yet to decide whether we should give him stents or do a bypass surgery on him. His condition is being constantly monitored by a team of cardiologists," said Kar.
Doctors at RML attended to the three MPs, Vinay Kumar Pandey, MP of Uttar Pradesh, Ponnam Prabhakar, Congress MP from Karimnagar, Andhra Pradesh and Union Minister Porika Balram Naik, MP of the Mahabubabad Constituency who were rushed to hospital from Parliament.

"The MPs were brought to the hospital casualty. They complained of burning in the eyes, difficulty in breathing and skin irritation. A team of doctors comprising doctors from opthamology and dermotalogy examined them. Medications were given and they were discharged 2.20 PM," said Dr Kar.

At around 4 pm, TDP president N Chandrababu Naidu met Rao at the hospital and spoke to the doctors.