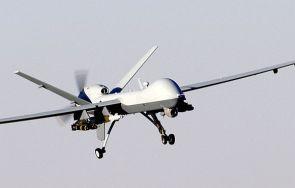 Days after Prime Minister Nawaz Sharif spoke against the use of US drones in Pakistan at the UN General Assembly, a CIA-operated spy plane targeted a house in the lawless North Waziristan region and killed four suspected militants.
The drone fired two missiles at the house in Datakhel area of North Waziristan. Four suspected militants were killed and two others injured, security officials said.
This was the second drone strike in as many days. On Sunday, six suspected militants were killed when a pilotless spy plane targeted a house near Dargah Mandi in North Waziristan Agency.
The attacks prompted the government to again strongly condemn the strikes. A statement from the Foreign Office said the unilateral strikes violated Pakistan's sovereignty and territorial integrity.
Pakistan has repeatedly emphasised the importance of an immediate end to drone strikes, the statement said.
In his address at the UN General Assembly on Friday, Sharif said drone strikes result in "casualties of innocent civilians" and were detrimental to "our resolve and efforts to eliminate extremism and terrorism from Pakistan".
Sharif said he had urged the US to cease these attacks so that further casualties and suffering could be averted but his call appears to have gone unheeded in Washington.