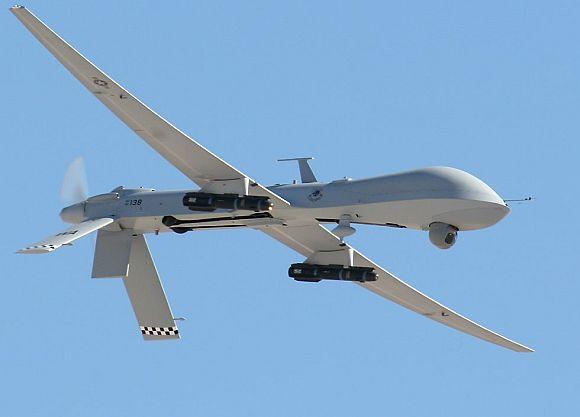 At least four suspected terrorists were killed when a United States drone fired missiles on a compound in Pakistan's restive North Waziristan region.
The Central Intelligence Agency-operated spy plane fired two missiles at a house near Dargah Mandi, days after Prime Minister Nawaz Sharif raised the issue of drone attacks at the UN and said it "is a continued violation of our territorial integrity."
He asked the US to stop drone attacks as such strikes were "detrimental to our resolve and efforts to eliminate extremism and terrorism from Pakistan".
Security sources said four terrorists were killed in Sunday's attack. Condemning the drone strike, Pakistan Foreign Ministry said these unilateral strikes are a violation of country's sovereignty and territorial integrity.
Pakistan has repeatedly emphasised the importance of bringing an immediate end to drone strikes, it said. Earlier, at least six people were killed in a US drone strike on a militant compound in North Waziristan on September 22, officials said.
At least four people were killed when a US drone targeted a house with missiles in North Waziristan on August 31.