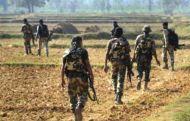 Four persons, including two boys, were allegedly kidnapped by suspected National Democratic Front of Bodoland-Songbijit's faction of insurgents in Assam's Baksa district, following which a massive search was launched and indefinite curfew imposed.
The four victims, part of a group of lemon traders, went to Labdanguri market in Salbari sub-division from adjacent Barpeta district on Friday evening but did not return. "It is suspected that they have been kidnapped by the NDFB-S militants," Baksa Additional Deputy Commissioner Bhawani Prasad Sharma said.
Following this, an indefinite curfew was clamped in Salbari. "An indefinite curfew has been imposed in Salbari sub-division under Gobardhana police station," Sharma said.
"Police and CRPF jawans are conducting a massive search to rescue the four. The army has also been called in and kept on stand by to deal with any untoward situation in the district," Baksa Deputy Commissioner Vinod Seshan said, adding that four cycles and sandals were found from a nearby area. The four missing persons have been identified as – Bakar Ali, 13, Saddam Ali, 13, Ataur Rahman, 27 and Rahul Amin, 45.
In May this year, 50 persons were killed in Baksa and Kokrajhar districts of the Bodoland Territorial Area Districts by suspected insurgents.