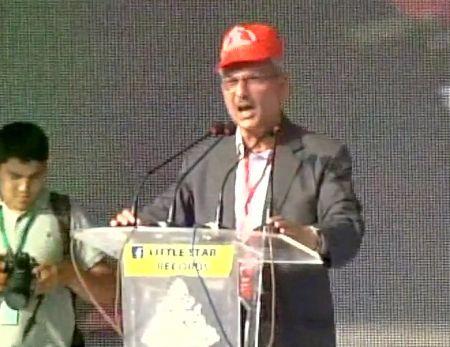 Nepal's former prime minister and Maoist leader Baburam Bhattarai on Sunday launched a new party, vowing to reform the country's political system and bring stability by maintaining harmonious relationship with both India and China.
Bhattarai said his party 'Naya Shakti Nepal' would bear the "historic responsibility" of making Nepal prosperous and developed.
Addressing the ceremony attended by Prime Minister K P Oli, Bhattarai said that his party is bringing the draft that would see Nepal as world's richest country in just 25 years.
Bhattarai's move to form a new party is set to give a big blow to CPN-Maoist Centre led by Prachanda, analysts here believe.
Prachanda had recently joined hand with some splinter Maoist groups to bolster their strength. Prachanda's party CPN-Maoist Centre is the main coalition partner of the incumbent government led by Oli.
"Naya Shakti will bring reforms that will establish that politics is not a dirty game. Politics is not a profession or means of making money. We will make politics pure and transparent. We will do what we say," 61-year-old Bhattarai said.
Summarising Naya Shakti's stand on governance system, Bhattarai said his party is in favour of directly elected president and seeks to bring huge reforms in the governance system of Nepal. According to Bhattarai, his party seeks for directly elected executive body and fully inclusive legislation. He also focused on youth participation in the leadership.
Explaining Nepal-India-China relationship, Bhattarai said that without proper balance between both the proximal neighbours, there will be instability in the country and Nepal will be a playground for outside forces.
Naya Shakti Nepal is committed to maintaining internal integrity and harmonious relationship with India and China, Kathmandu Post quoted him as saying.
Bhattarai also proposed the idea of an independent Lokpal -- a corruption watchdog -- that will investigate into the corruption allegations levelled against the leaders including himself.
He said that his party is not purely sided with socialist or capitalist philosophies.
"We will assess what will bring prosperity, increased investment and capital formation to Nepal. We will study the cases and develop the driving philosophy of the party," Bhattarai said.
Noting that major political parties of Nepal including epal Congress did armed struggle in their time, Bhattarai said Maoist also did same thing against the autocratic monarch and hoped that the Truth and Reconciliation Committee formed to probe war-era cases conduct fair investigation. He said he was ready to face the consequences if proven guilty.
He said Naya Shakti would guarantee rights to everyone.
"We will not pull down other parties. We will place positive agendas and lead according to those agendas. Lets rise above together," he said.
Bhattarai was the 35th Prime Minister of Nepal from August 2011 to March 2013.
He played a key role in bringing the Maoists into political mainstream after the end of decade-long insurgency in 2006.
He was a senior Standing Committee Member and vice chairperson of Unified Communist Party of Nepal-Maoist until his resignation from his post and all responsibilities from the party on September 26, 2015.
Bhattarai, who is known for his soft policy towards India, has also been backing the demands of Madhesis and other ethnic groups that have been agitating since the promulgation of the new Constitution last year to seek more representation.