Nearly 1,500 akansha petis (boxes of aspirations) have been placed in colleges for students to reveal what they expect from a BJP government.
While demonetisation figured high in villages, BJP strategist Siddharth Sikka says city youth were "more concerned" about law and order and sanitation.
Radhika Ramaseshan reports.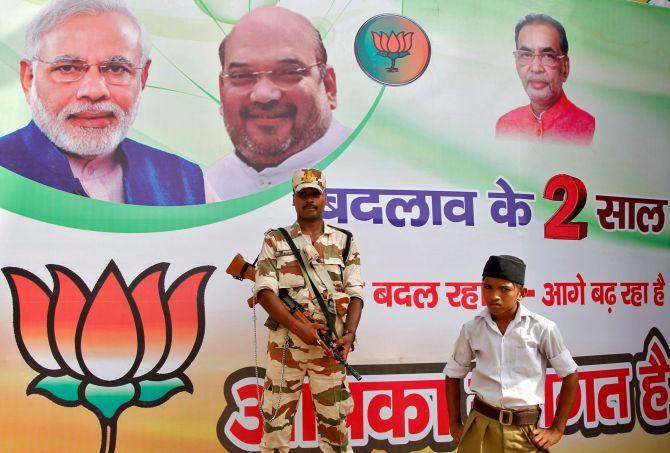 The Bharatiya Janata Party has claimed to have beaten the demonetisation 'blues' in Uttar Pradesh, convinced that its political adversaries, the Samajwadi Party and the Bahujan Samaj Party, were in "trouble" with their "hollowed out coffers."
"The Samajwadi is registering its presence only through official functions hosted by (Chief Minister) Akhilesh Yadav. Mayawati (the BSP chief) is not seen anywhere after an initial flurry of rallies," said Abhishek Kaushik, a top aide to Sunil Bansal, the BJP's Uttar Pradesh general secretary (organisation) and the principal conduit between Lucknow and Delhi.
"Our campaigns and mobilisation are on course. We have not tweaked, downplayed or deleted any part of our pre-poll blueprint," Kaushik added. "Our parivartan (transformation) yatra is rolling on schedule, the prime minister and other top leaders are addressing the pre-planned rallies."
Minted from the Rashtriya Swayamsevak Sangh's student pool of activism, the Akhil Bharatiya Vidyarthi Parishad, Kaushik helms the BJP's social media department housed inside a war room at the party's Lucknow headquarters.
The war room was conceptualised and put in place in 2014 by Prashant Kishore, a former consultant to Prime Minister Narendra Modi.
As Kishore's role in the Congress, that hired out him to lift it from the two-decade morass it sunk into, remained ambiguous, his protege Siddharth Sikka, who remained with the BJP, was emphatic about how he would deliver on his mandate in the 2017 state elections.
"Our discourse is aspirational and critical," Sikka, an IIT-Kanpur engineer, explained. "Every slogan that hits out at the Akhilesh Yadav government and sounds negative is juxtaposed with the vision of change that a BJP dispensation will unveil."
For example, one slogan that recalled the boldly confrontation between the Uttar Pradesh police and squatters at Mathura's Jawahar Bagh in June 2016 was accompanied by one highlighting the 'benefits' brought to the poor by the Centre's flagship 'Ujwala' and 'Mudra' schemes.
The 'aspirational' motif was reinforced in other ways too.
Nearly 1,500 akansha petis (boxes of aspirations) have been placed in colleges for students to reveal what they expected from a BJP government.
While demonetisation-related issues figured high on the agenda in provincial places and villages, Sikka claimed city youth were "more concerned" about law and order and sanitation.
"These issues are fodder for our campaign against the SP," said Kaushik.
Ironically, it was not the anti-Samajwadi tirade on the BJP's social media sites that drew as many 'likes' -- 1,498,797 in a month -- as a visual, depicting BSP leader Mayawati against a backdrop of the monuments of Dalit icons she had put up in Lucknow and Noida in her last stint as the chief minister.
Mayawati was lambasted for the drain on the state exchequer that the Dalit memorials allegedly cost.
"Our job against Mayawati is done. We have only to remind voters of her corruption and they get put off," maintained a UP BJP official.
As the BJP's riders on the 1,650 motorbikes it purchased recently for Rs 6 crore (Rs 60 million) -- "payment only by cheque" and "fuel bought by Bharat Petroleum's petrocard," stressed Kaushik -- fanned out into the villages to purvey the messages of Mayawati's 'corruption' and Akhilesh's 'patronage of criminals' from December 18, away from the glare, the BSP has charted out its social and political trajectory.
"This is the BJP and RSS' disinformation that the BSP has no money after the 'notebandi. We don't need money. We only need to follow the methodologies crafted by our founder, Kanshi Ram," said a member of Mayawati's team of strategists.
Among the facets of the BSP's template were classifying the voters into upper castes, backward castes and minorities (the party assumed Dalits were its mainstay) and reaching out to these groupings through the bhaichara samitis (brotherhood committees) that Mayawati had first set up in 2006 to enlarge her social base before the 2007 elections and a campaign themed on law and order, demonetisation and the absence of a CM face in BJP, in that order.
Mayawati's aide also said she will declare no more monuments or memorials will be raised.
IMAGE: A policeman stands guard as a Rashtriya Swayamsevak Sangh volunteer looks on beside a hoarding featuring Prime Minister Narendra Modi and BJP President Amit Shah in Allahabad. Photograph: Jitendra Prakash/Reuters