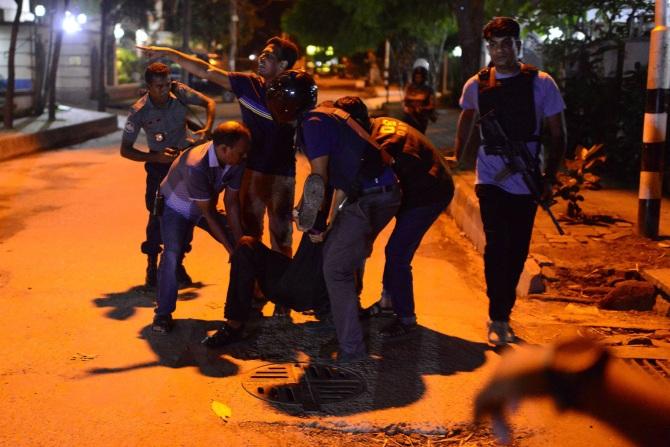 An intelligence agency of a foreign country mobilsed funds for the Dhaka cafe attack which was carried out on behalf of a top fundamentalist Jamaat-e-Islami leader who is on death row after being convicted for 1971 war crimes in Bangladesh, according to a media report.
The funds for the Gulshan terror attack that left 22 people dead was mobilised by the secret service of a country on behalf of death row convict and fundamentalist Jamaat-e-Islami leader Mir Quasem Ali, whose final review petition is now pending before the Supreme Court, the Independent said.
"An influential country, which has always sheltered war criminals, coordinated the attack. The secret service agency of that country allegedly mobilised a huge amount of funds on behalf of death row convict and war criminal Mir Quasem Ali," the paper said, citing a source involved in the investigation, without naming the country.
The newspaper said the investigators have already collected all credible evidence against the accused and are now concluding their analysis of the evidence.
"The investigators are now trying to ascertain how the funds reached the attackers," it said, adding that only after concluding the process the suspects would be arrested.
Meanwhile, Home Minister Asaduzzaman Khan on Monday said the government has unearthed the blueprint of recent terrorist attacks in Bangladesh.
"The blueprint behind all the attacks is now in our hand," Khan told a rally of the ruling Awami League in Dhaka.
He said that the evidence obtained by the investigators suggested that all the attacks were tied in a single thread.
Khan did not disclose the investigation details but said "we came to know the background of the attacks and how the plots were hatched".
Jamaat was opposed to Bangladesh's 1971 independence from Pakistan and its members fought alongside Pakistan army and killed scores of people, including professors, intellectuals and others.
Prime Minister Sheikh Hasina's government has repeatedly accused it for a series of clandestine attacks on liberal and secular writers and religious minorities.
Bangladesh police on Sunday claimed that it has identified the mastermind behind the cafe attack, the worst terrorist attack in the country.
"We have enough evidence regarding who planned it and how it was planned. We are trying to arrest them as soon as possible," Dhaka Metropolitan Police commissioner Asaduzzaman Mia had said.
The police on Monday said they have succeeded in tracing the source of the weaponry used by terrorists to attack the upscale cafe and an Eid congregation six days later at northern Sholakia.
The police said they were now trying to arrest the suppliers of the weapons and have sought "help of the general people".