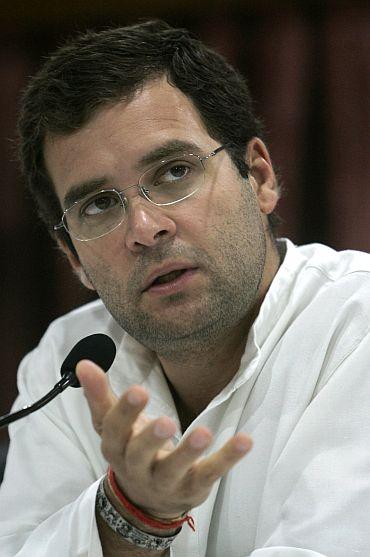 Rahul Gandhi on Friday slammed the Bharatiya Janata Party and its ally Shiv Sena over the alleged force-feeding of a fasting Muslim employee at a Maharashtra government guesthouse in Delhi, dubbing it "politics of bullying" people.
The Congress vice president also said the incident last week at the New Maharashtra Sadan reflected the ideology of the BJP and the Shiv Sena. Gandhi made these remarks when asked to comment on the incident that has sparked outrage during a brief interaction with the media during his visit to his parliamentary constituency in Uttar Pradesh.
"It is the ideology of BJP, Shiv Sena. Politics of bullying people is what they do. This is extremely damaging to the country and this is what we fight against every day," he added.
The Shiv Sena has come under fire after the party's leader Rajan Vichare was caught on video footage forcing a catering superviser fasting for Ramzan to eat a chapati.
Gandhi also accused the Narendra Modi government of doing nothing to control prices, which, he said is the "main issue" now before the country. "The universal complaint is vegetable prices are rising and the government is doing nothing," he said, adding, "The people are saying that the government in Delhi had made big promises, biggest promise was on prices."
"People are in pain because of this (rising prices). It is government's responsibility to control prices," he added.
During his visit to villages in this constituency, Gandhi thanked people for their support in Amethi in the recent Lok Sabha elections.
He would leave for Delhi on Saturday morning after a night halt at the Munshiganj guesthouse, his representative Chandra Kant Dubey said.