The dining experience is at the centre of modern life and restaurateurs are constantly aiming to add something new to make your regular à la carte menu into a whole new sensation. What better way is there to make the monotonous eatery into a house of Dionysian flavours than to spice up the decor.
From the underwater restaurant to the spectacular dinner on a double decker bus to a restaurant with automatons as waiters, foodies will go anywhere to satiate their epicurean desires.
Rediff.com looks at the best weirdest restaurants that cater the customer into having a truly unique dining experience.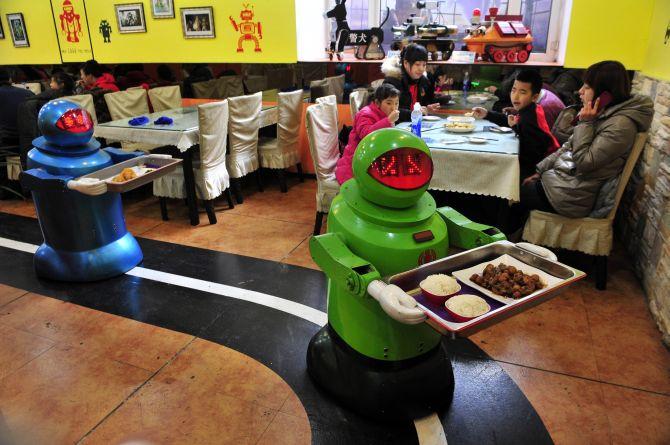 Robots deliver dishes to customers at a Robot Restaurant. Opened in June 2012, the restaurant has gained fame in using a total of 20 robots to cook meals and deliver dishes. The robots can work continuously for five hours after a two-hour charge, and are able to display over 10 expressions on their faces and say basic welcoming sentences to customers, Harbin. Photograph: Sheng Li/ Reuters
---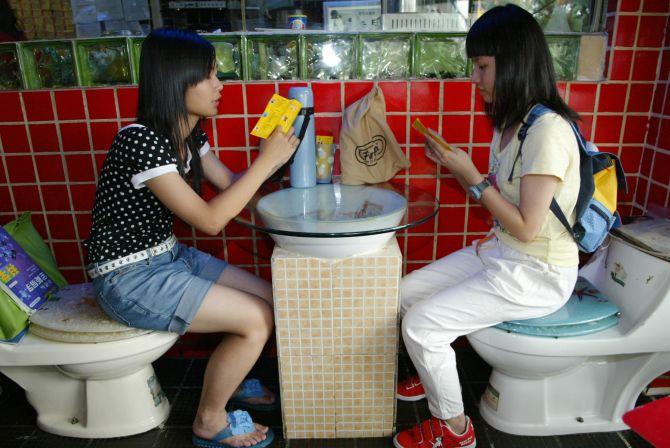 Customers look at menus on toilet seats at a toilet-themed restaurant in Shenzhen, south China's Guangdong province. Photograph: Joe Tan/ Reuters
---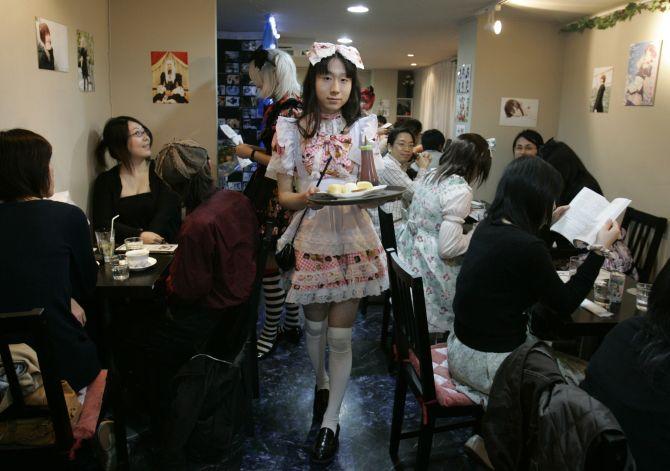 A man named "Kalina" dressed as a maid serves customers at "Hibaritei" cafe in Tokyo's Akihabara district. Photograph: Yuriko Nakao/ Reuters
---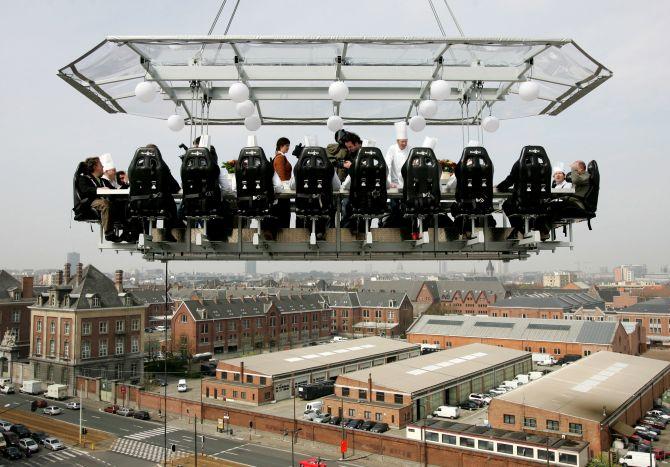 A group of 22 Belgian chefs enjoy a plate of oysters at a table suspended by crane 50 metres above Brussels traffic. Photograph: Francois Lenoir/ Reuters
---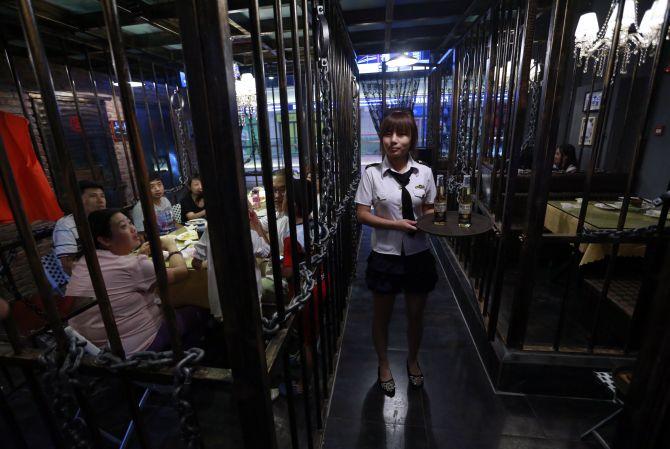 A waitress poses while customers eat dinner inside iron cages at a jail-themed restaurant in the Chinese port city of Tianjin. Photograph: Kim Kyung-Hoon/ Reuters
---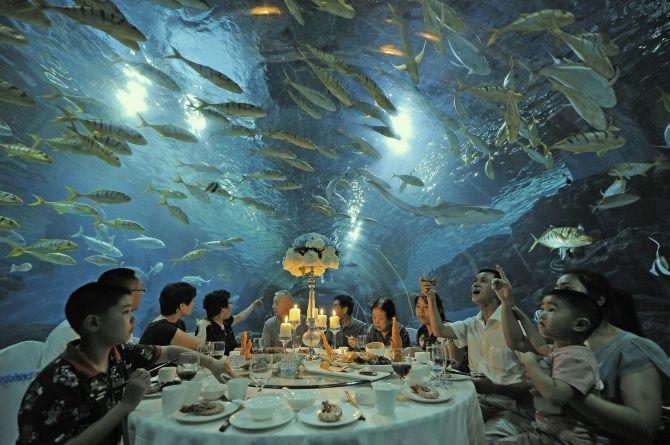 Tourists have dinner as fish swim around them, at the Tianjin Haichang Polar Ocean World in Tianjin. Photograph: Stringer/ Reuters
---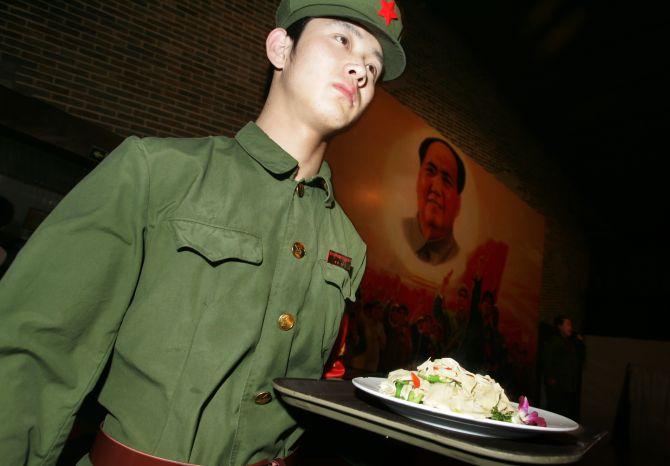 A Chinese waiter dressed as a Red Guard walks past a portrait of the late Chairman Mao Zedong at a restaurant named "Red Classic". "Red Classic" is a theme restaurant based on the Chinese Cultural Revolution and is decorated with posters from the period while customers, served by waiters and waitress dressed as Red Guards, enjoy revolutionary songs and dance performances, Beijing. Photograph: Jason Lee/ Reuters
---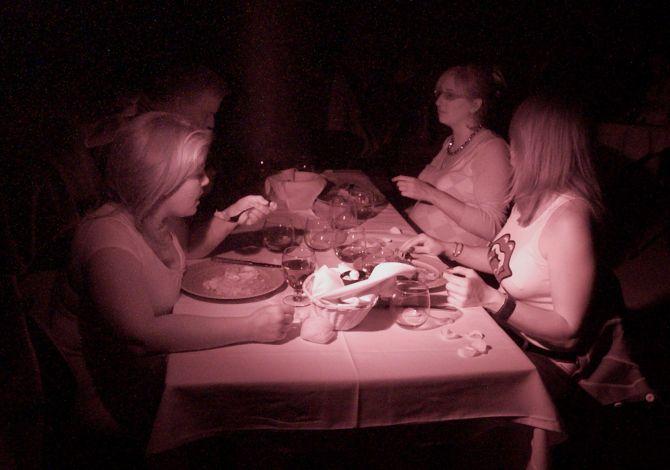 In this false color infrared flashed time exposure image, customers Megan Phares (L), Jamey Titone, (2nd L), Stephanie Wandke (2nd R), and Bonnie Titone (R) experience dining in complete darkness at Opaque in West Hollywood. Photograph: Jason Redmond/ Reuters
---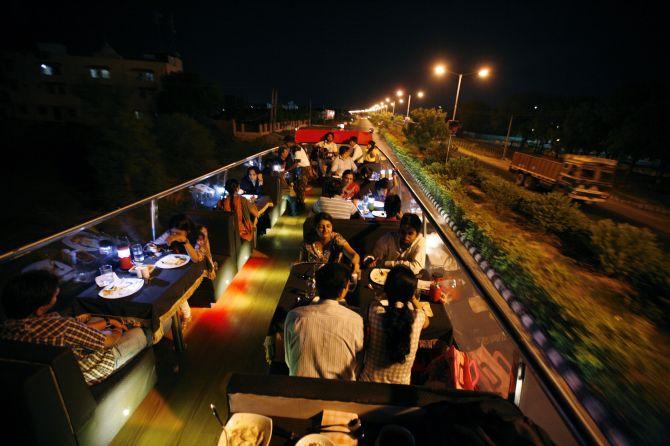 People dine on a double-decker bus which has been converted to a mobile restaurant as it travels through the streets of the western Indian city of Ahmedabad. Photograph: Amit Dave/ Reuters
---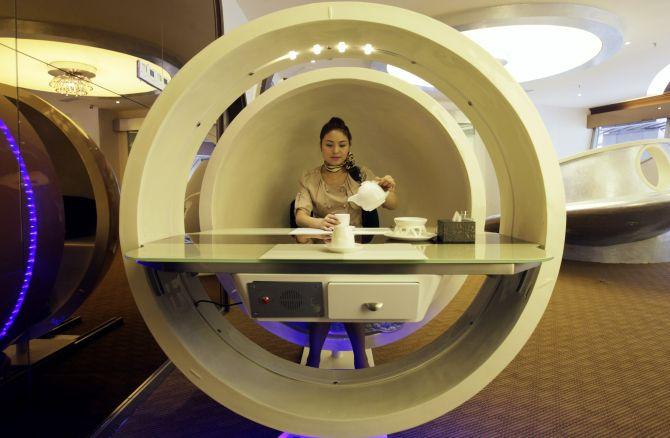 A waitress poses inside an egg-shaped dining booth at an A380 theme restaurant during a media event before its official opening in Chongqing municipality. Photograph: Stringer/ Reuters
---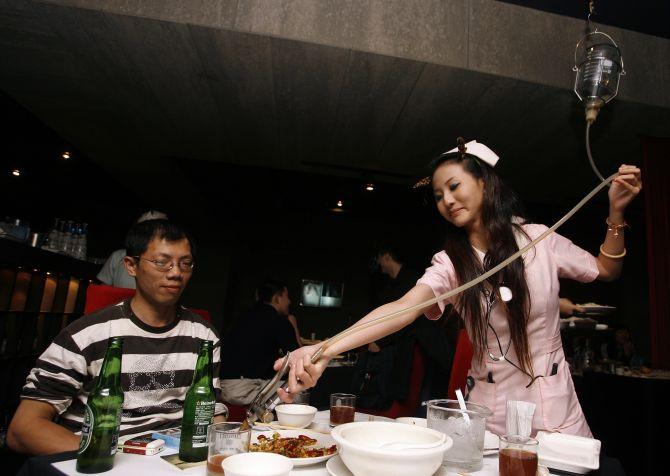 A waitress dressed in nurse uniform serves a drink to a customers with a drip at a hospital-themed restaurant in Taipei. Photograph: Nicky Loh/ Reuters
---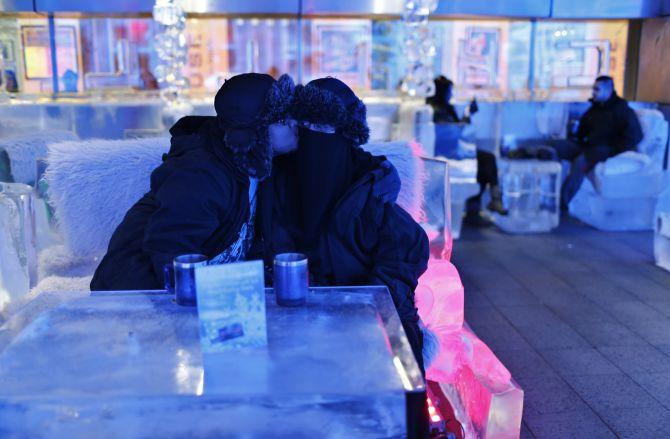 Honeymooner Ahmed, form Saudi Arabia who got married last week, kisses his veiled bride at Chillout cafe. Chillout, owned by UAE's Sharaf Group, is the first ice lounge in the Middle East, with temperatures set at -6 degrees Celsius (21 degrees Farenheit), Dubai. Photograph: Ahmed Jadallah/ Reuters