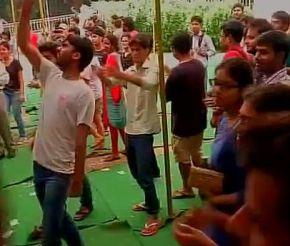 Left-backed All India Students' Association on Sunday swept the Jawaharlal Nehru University Students' Union polls bagging all the top four positions, including the president's post, for the second consecutive year.
Retaining its hold over the prestigious students' body, AISA won the positions of president, vice president, joint secretary and general secretary defeating candidates from Akhil Bharatiya Vidyarthi Parishad, National Students' Union of India, Students' Federation of India and Left Progressive Front.
ABVP which had swept the Delhi University elections held on Friday following a high-voltage campaign on issues relating to women's safety, failed to win any of the four top posts in JNU elections.
Ashutosh Kumar, who won the race for the union president's post, secured a total of 1,386 votes defeating his nearest rival Rahila Perween, the candidate of LPF, which is an alliance between Democratic Students' Federation and All India Students' Federation, by a margin of 377 votes.
Last year too, the ultra-left AISA had swept the union polls winning all the top positions. "We have got a clear mandate. This is a response to the fascist forces in the country," said Ashutosh Kumar, the new JNUSU president.
Image: Members of AISA celebrate the victory after it won the elections and bagged all the top four positions. Photograph: ANI/Twitter