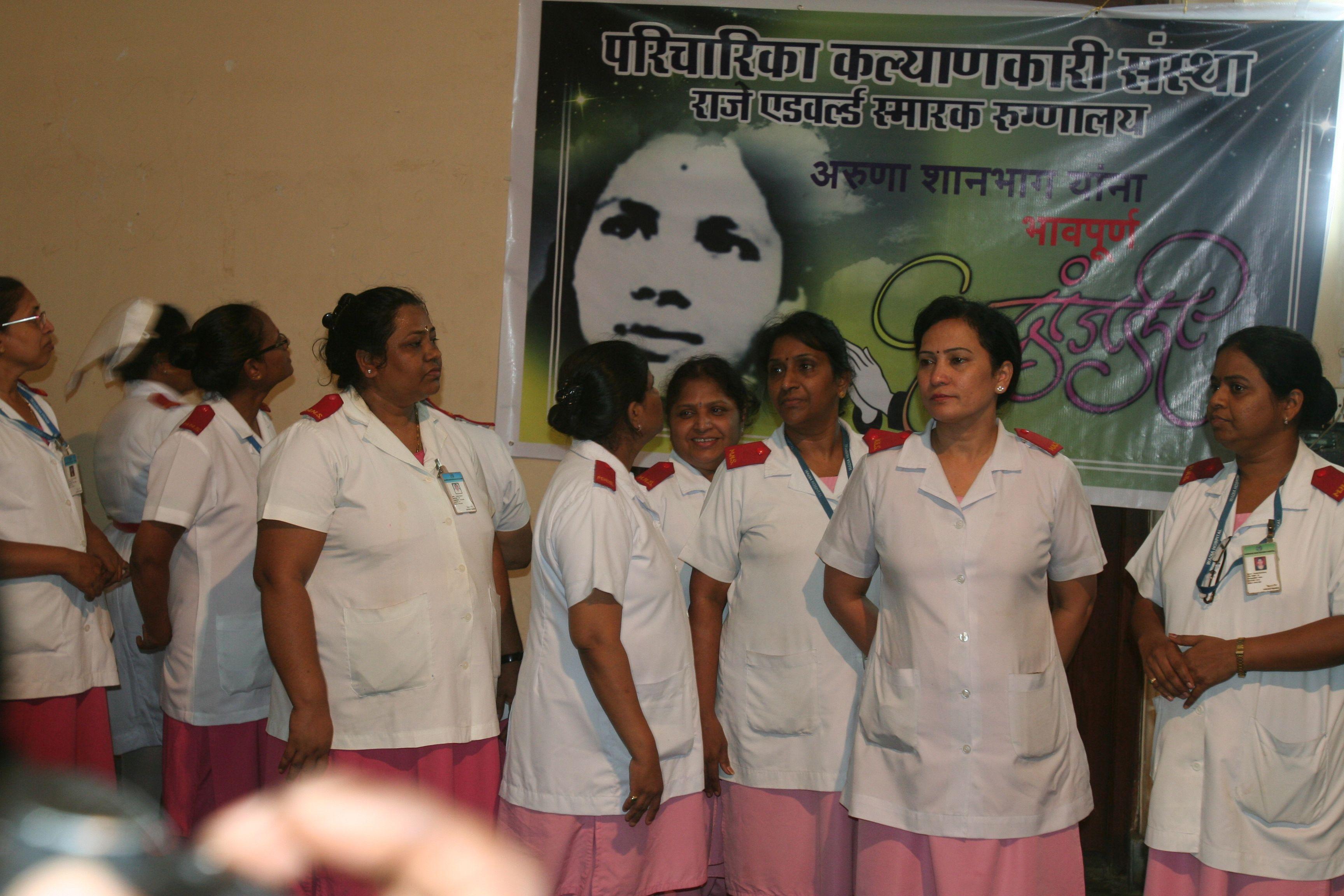 'There was special bonding between all the nurses and Aruna. It has been a bond lasting 40 years among us. We all have fond memories of her, she will be missed, for sure,' the nurses of KEM Hospital, who looked after Aruna Shanbaug selflessly for more than four decades, tell Syed Firdaus Ashraf/Rediff.com.
Aruna Shanbaug amar rahey, amar rahey. The chant echoed through King Edward Memorial hospital at Parel in South Mumbai on Monday afternoon.
The nurse who had spent the last 42 years in a vegetative state, confined to her bed in ward number 4, was dead, and the nursing fraternity that cared for her in the highest traditions of the noble profession, was inconsolable.
For more than four decades, Aruna, one of them, had been their responsibility, and they had looked after her with compassion and love. So much so that even the Supreme Court of India was moved to described the nurses' service as 'born of a feeling of oneness'.
"Out of 800 nurses working in KEM, every nurse has served Aruna during her tenure," said Sanjeevani Jadhav, one of the nurses who had looked after Aruna. "KEM hospital won't be the same without her. She was like a family to all of us."
By 3 pm, Aruna Shanbaug's body had been taken to the room next to the dean's office, for the nurses to pay their last respects before being taken to the crematorium.
Finally, after 42 years, Aruna would leave the KEM Hospital premises, whose ward number 4 had been her home from 1973.
On November 27 that year, a ward boy, Sohanlal Bhartha, sodomised Aruna. When she resisted him, he strangled her with a chain, cutting off the oxygen supply to her brain and reducing her to a vegetative state from which she never came out.
Bhartha was convicted for his crime; but because sodomy was not considered rape then, he got away with a seven-year sentence, which he served and came out.
KEM Hospital Dean Dr Avinash Supe, said, "Aruna developed pneumonia five days ago but her condition was improving. Sadly she suffered a cardiac arrest on Monday morning and passed away."
Swati Varadkar, another nurse, said, "Aruna's is a very sad story. All her life she suffered for no reason, for no fault of hers. It is a tragedy that she was present in that room in 42 years ago when that devil (Sohanlal) attacked her. More tragic was that her relatives abandoned her after the incident and KEM staffers became her only relatives."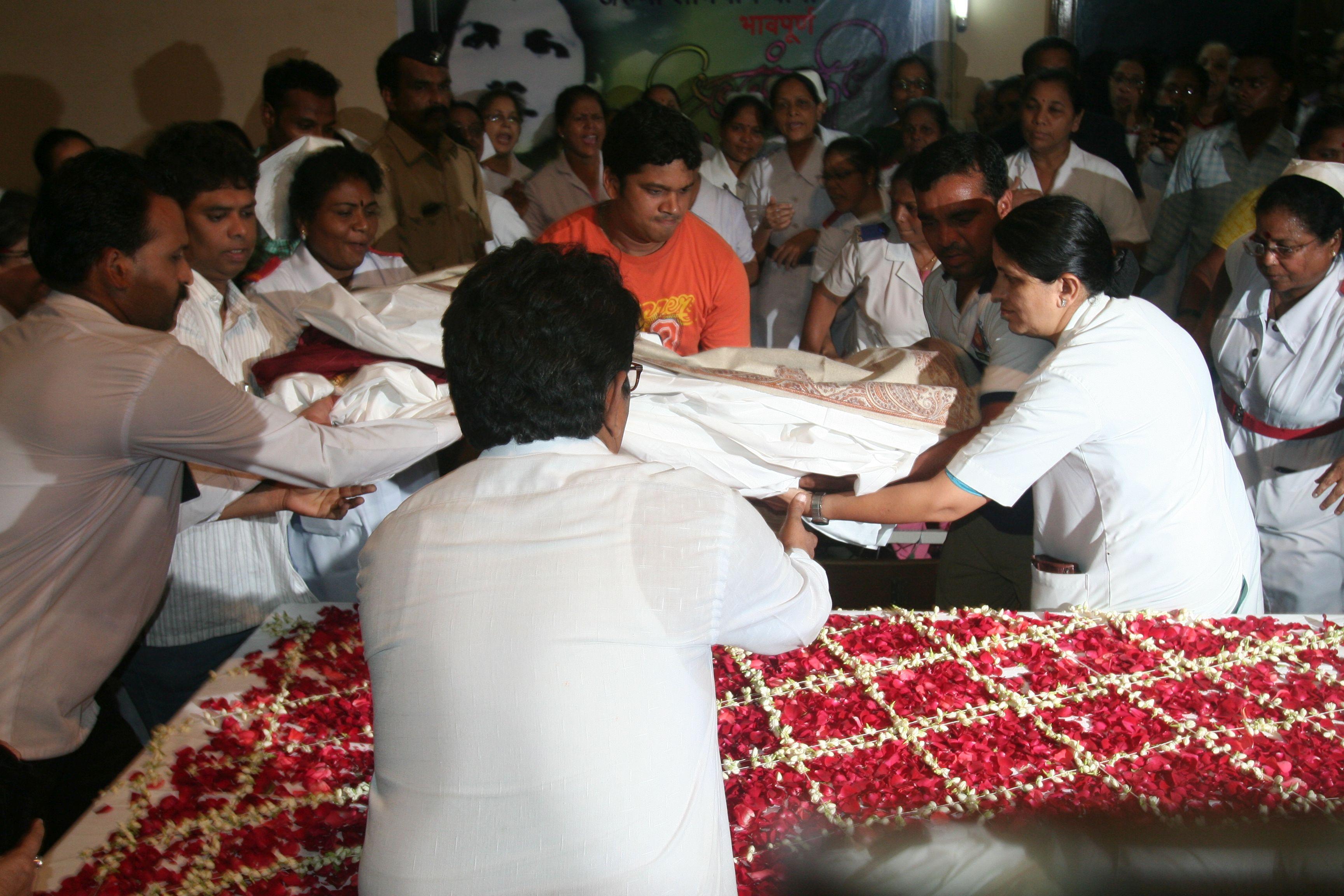 Pinky Virani, author and journalist who had penned a book on Aruna's tragic story, petitioned the nurse's case for euthanasia, mercy killing, in the Supreme Court but a three-judge bench presided over by Markandeya Katju rejected her plea on March 7, 2011.
In its ruling the Supreme Court doffed its hat in praise of the KEM nursing staff who had kept Aruna alive all these years.
'It must be put on record that in the world history of medicine there would not be another single case where such a person is cared and nurtured in bed for 33 long years and has not developed a single bed sore. This speaks of volumes of excellence of nursing care that the KEM nursing staff has given to her. This care is given not as a part of duty but as a part of feeling of oneness.'
"Every nurse in ward number 4 has served Aruna," recalled Urmila Chavan, a retired nurse. "There was a special bonding between all the nurses and Aruna. I came to the hospital today to see her for the last time. I had joined KEM in 1975 when Aruna was in this vegetative state. It has been a bond lasting 40 years among us."
"Aruna's birthday was on June 1 and all of us, doctors and nurses, would celebrate it by bringing a cake for her. We all have fond memories of her. She will be missed for sure."
Images: KEM nurses pay their last respect to Aruna Shanbaug. Photographs: Reuben Verghese/Rediff.com.