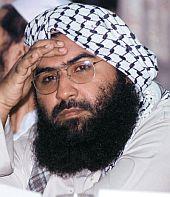 Clinging to its pro-Pakistan stance, China has asserted that Jaish-e-Mohammed chief and Pathankot terror attack mastermind Masood Azhar does not qualify to be nailed as a 'terrorist' to face United Nations sanctions as his case 'did not meet' the Security Council's requirements.
'Any listing would have to meet the requirements' for blacklisting, Chinese Permanent Representative to the UN Liu Jieyi told reporters on Friday in response to questions over China's decision to place a 'technical hold' on designating Azhar in the UN Sanctions Committee.
"It is the responsibility of all members of the council to make sure that these requirements are followed," he said, but gave no further details.
Liu's comments came on a day when China, one of the five permanent members of the 15-nation Council, assumed the rotating presidency of the UNSC for April.
India has reacted strongly to China's blocking of its bid at the UN to ban the JeM chief, saying that the sanctions committee was taking a 'selective approach' in tackling terrorism.
In Beijing, also on Friday, Foreign Ministry spokesman Hong Lei defended China's decision, saying that it acts on such issues based on facts and rules in an 'objective and just manner'.
"We always deal with the listing issue (banning militant groups and their leaders) under the UN Security Council committee established under resolution 1267 based on facts and relevant rules of procedures in an objective and just manner.
"The Chinese side has always been in communication with relevant parties on the listing issue," he said, hinting that China is also in touch with India on the issue.