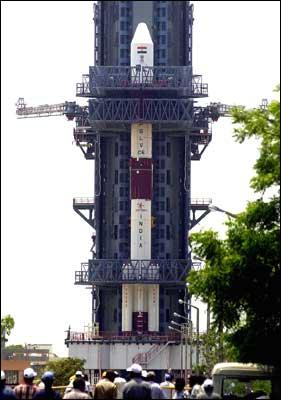 The 44-metre Polar Satellite Launch Vehicle-C6 is ready for launch at the Satish Dhawan Space Centre at Sriharikota, about 110 km from Chennai.
The launch is scheduled for 1019 IST on May 5 from a newly built launch pad. The PSLV-C6 will carry a remote sensing satellite and one for home radio operators, project director N Narayanamoorthy said.
The two satellites in orbit will help the country's mapmakers and amateur radio operators, another official said. The two satellites are called CARTOSAT-1 and HAMSAT.
CARTOSAT-1 is the first remote-sensing satellite to be built in India.
Photograph: STR/AFP/Getty Images