General Surindar Bhaskar served as the 17th chief of the US Army Dental Corps, reports Ritu Jha.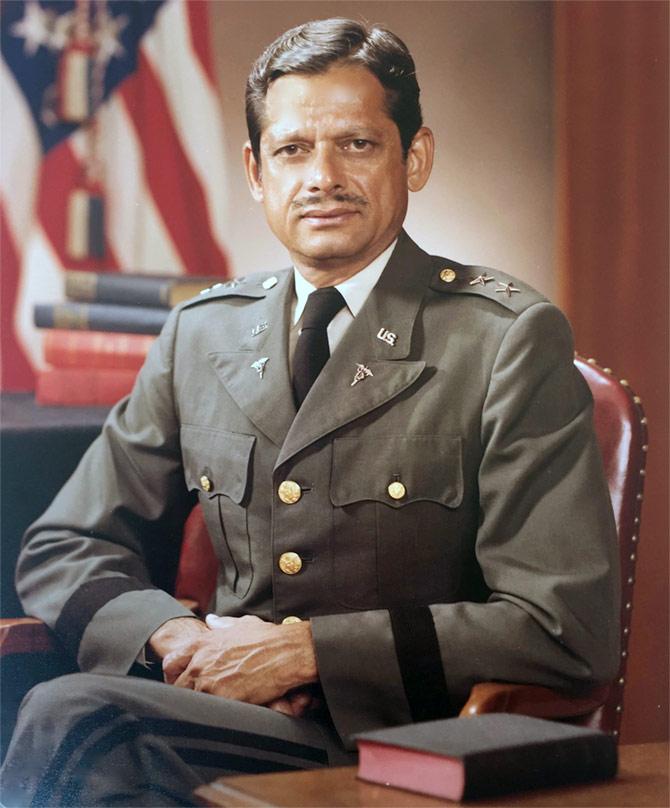 "My father was a kind man who set a high standard for us," says Dr Philip Bhaskar, son of Major General Dr Surindar 'Sindi' Bhaskar, who served as the 17th chief of the US Army Dental Corps.
General Bhaskar died of a heart attack at his home in Monterey, California. He was 93.
Born in Punjab, General Bhaskar was the first Indian-born general in the United States military. He was an oral pathologist, an educator, a periodontist, and also an author.
His father, Dr Philip Bhaskar said, lived the American Dream and had an incredible life.
He came to America on a scholarship at 22, and went to the Northwestern University School of Dentistry in Chicago.
He was 19 when he earned a degree in dentistry from the University of Punjab and then practiced general dentistry in Mumbai before immigrating to the US.
The young man had left India without informing his family and sailed on a troop ship during World War II. At that time there weren't many Indians in the United States, said Dr Bhaskar, an oral and maxillofacial surgeon in Monterey.
"It was his thirst for academic excellence that brought him to the US," said Dr Bhaskar, "He wanted to be in a place where he could study and become the best. And at that time, particularly Chicago was a hub for health care."
He wrote four books and 200 articles, mostly on oral pathology and periodontics.
According to ada.org, after receiving his degree in 1946, he did a master's in science, got a PhD and did specialty training in oral pathology and oral medicine at the University of Illinois and University of Chicago. He was board certified in both oral pathology and oral medicine.
He joined the US Army Dental Corps in 1955 where his numerous positions included chief of oral pathology, director of the US Army Institute of Dental Research and director of medical personnel.
He was promoted to major general and sworn in as assistant surgeon general for dental services and the 17th chief of the US Army Dental Corps in 1985.
After retiring from the US Army, General Bhaskar completed a periodontics residency at the University of California Los Angeles School of Dentistry before moving to Monterey in 1980 to practice periodontics with the Monterey Peninsula Dental Group.
He continued to lecture throughout the country on oral pathology and periodontics until he retired in 2005.
"He loved the United States and wanted to be in an environment where he could give back to his new country. It also gave him an opportunity no one else would give," said Dr Bhaskar on his father's decision to join the army.
"I have learned a lot of things from my father," he added. "His life was a great example for me in his dedication to his profession, his patients and his love of this country and heritage."
But he also loved India. "He was very much an Indian, though he was an American of course, he loved India."
Norma Bhaskar, Dr Bhaskar's wife, is German-Irish. The couple had three sons.
"Back then the Indian community was so small that my dad really wanted to simulate into American culture and society. But my mom learned Indian cooking and she did her best," said Dr Bhaskar, who is General Bhaskar's second son.
William Carpenter, former chair of the department of pathology and medicine at the University of the Pacific, Arthur A Dugoni School of Dentistry, said General Bhaskar was his mentor during residency.
"It was 1970 and I worked with him one day a week and would be together for two years. He was in charge of the research. We would do surgery on patients together. He was a pathologist and ran a residency programme," Dr Carpenter remembered. "He also became a commander of the research institute. He was a very hard worker, a very dedicated and simple person."