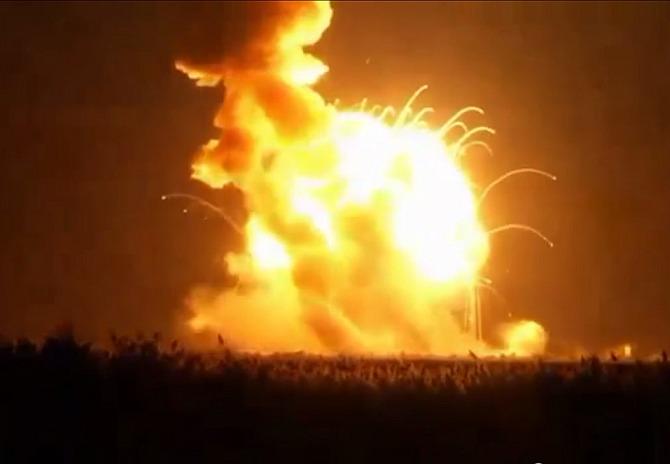 An unmanned Antares rocket is seen exploding seconds after lift off from a commercial launch pad in this still image from NASA video at Wallops Island, Virginia. Photograph: NASA/Reuters
An unmanned private rocket contracted by National Aeronautics and Space Administration to carry cargo into the space has exploded seconds after its launch along the eastern Virginia coast of the United States.
"There was failure on launch. There was no indicated loss of life," NASA spokesman Jay Bolden said after the Orbital Sciences Corporation's Antares rocket and Cygnus cargo spacecraft blew up Tuesday evening soon after its launch at 6:22 pm (local time) from the Wallops Flight Facility along the Atlantic Ocean.
"There was significant property and vehicle damage. Mission control is trying to assess what went wrong," Bolden said.
It was set to carry some 5,000 pounds of supplies and experiments to the International Space Station, the space agency said adding that failure occurred six seconds after launch.
US President Barack Obama was immediately briefed by his officials, the White House said. "This (on Tuesday) evening the President was briefed on the launch failure of the Antares rocket in Wallops, Virginia. The president was briefed by White House Deputy Chief of Staff Anita Decker Breckenridge and will continue to get updates as more information becomes available," the White House Principle Deputy Press Secretary Eric Schultz said.
According to NASA's emergency operations officials, there were no casualties and property damage was limited to the south end of Wallops Island. Orbital has formed an anomaly investigation board, which will work in close coordination with all appropriate government agencies, to determine the cause of the mishap.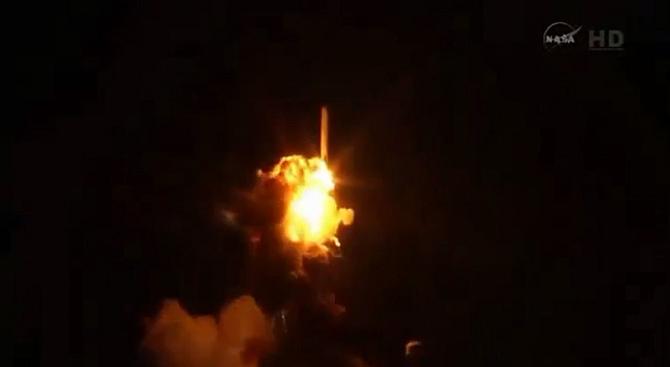 The explosion caused significant property and vehicle damage. Photograph: NASA/Reuters
According to the space agency's statement, the launch of Antares rocket was initially scheduled for Monday but the attempt was scrubbed because a boat was inside the range safety zone southwest of the launch pad.
Orbital Sciences Corporation said the Antares rocket launch from NASA's Wallops Flight Facility was catastrophic failure. "It is far too early to know the details of what happened," said Orbital's Executive Vice President and General Manager of its advanced programmes group Frank Culbertson. "As we begin to gather information, our primary concern lies with the ongoing safety and security of those involved in our response and recovery operations. We will conduct a thorough investigation immediately to determine the cause of this failure and what steps can be taken to avoid a repeat of this incident," Culbertson said.
"As soon as we understand the cause we will begin the necessary work to return to flight to support our customers and the nation's space program," he added.
According to CNN, a video showed the rocket rising into the air for a few seconds before an explosion. It then plummets back to Earth, causing more flames as it hits the ground.
"While NASA is disappointed that Orbital Sciences' third contracted resupply mission to the International Space Station was not successful, we will continue to move forward toward the next attempt once we fully understand the mishap."
"The crew of the International Space Station is in no danger of running out of food or other critical supplies," said Associate Administrator of NASA's Human Exploration and
Operations Directorate William Gerstenmaier.
"Orbital has demonstrated extraordinary capabilities in its first two missions to the station earlier this year, and we know they can replicate that success. Launching rockets is an incredibly difficult undertaking, and we learn from each success and each setback."
"The launch attempt will not deter us from our work to expand our already successful capability to launch cargo from American shores to the International Space Station," he said.