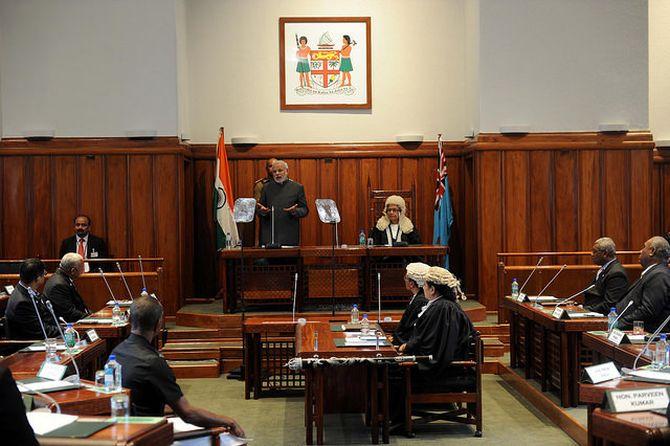 Prime Minister Narendra Modi on Wednesday praised Fiji's Constitution which reflected the will of an enlightened nation, guaranteed freedoms and rights to the citizens, ensured their basic needs and empowered them.
"In both nations, we have vested power in our people. Your Constitution begins with "We, the people of Fiji", ours begins with the same simple words, "We the people of India" And, what a Constitution you have framed!" Prime Minister Modi said in his address at Fiji's Parliament.
"It is a Constitution that not only guarantees freedoms and rights the citizens, but also ensures their basic needs and empowers them. From the right to life, liberty, dignity, equality and freedom of religion, to the right to education, information, work, health, food and water, to the rights of children and the disabled. This is a Constitution that reflects the will of an enlightened nation," he added.
The prime minister also talked about collaborating in running hospitals and cooperation in pharmaceuticals and traditional medicines.
"As we have collaborated in running hospitals here, we can also extend our cooperation in pharmaceuticals and traditional medicines," he said.
He also talked about working with Fiji to harness the potential of Space technology for governance, economic development, conservation, climate change and natural disasters and also in agriculture and various other areas.
"We could work to make Fiji the hub for our regional collaboration in Space, just as India has done with ASEAN. I offer our expertise and assistance in increasing productivity in the agriculture sector. As the largest producer of milk in the world, India can help develop your dairy industry, which can also contribute to your exports. In areas like fisheries, textiles and garments, and gems and jewellery, we can expand trade," he said.
Referring to golfer Vijay Singh, Prime Minister Modi said, "There are many in India, who wish Vijay Singh wore the Indian colours on the golf course!"
Prime Minister Modi also announced the setting up of a centre of excellence in Information Technology in Fiji.
Image: Prime Minister Narendra Modi addresses the Fijian Parliament during his visit to Fiji. Photograph: MEA/Flickr