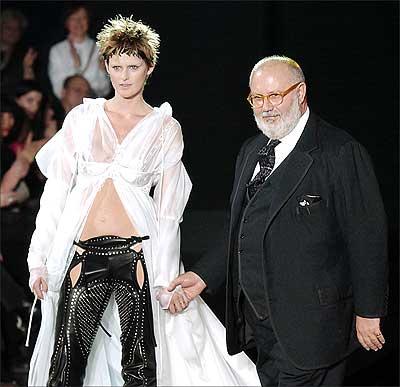 In the early 1970s a young Italian, with a degree in architecture from Milan university, arrived in India to study handicrafts.
Three years spent working with India's bright colours and textures inspired him to turn his focus from designing buildings to clothes.
When he returned to Italy he started his label, Baila, and subsequently went on to devote a lifetime to designing the most stylish of garments for the world's elegant women and men.
Indeed, Italian designer Gianfranco Ferre, 62, who died on Sunday in Milan after a brain haemorrhage, started his career in India.
India's exoticism and vibrant hues are said to have had a lasting effect on his work. And it was while Ferre was talking to legendary fashion editor Diana Vreeland that she famously remarked, 'Pink is the navy blue of India.' And he replied matter-factly, 'Naturally, pink is the navy blue of India because it's the cheapest of all dyes.'
Ferre, who after the success of his first line Baila, launched signature label Gianfranco Ferre, quickly became one of Italy's most talented designers and was admired for his attractive ready-to-wear lines for men and women. He gained world attention when he was selected in 1989 to be the artistic director at Christian Dior in Paris.
It was the first time the celebrated French design house had hired a designer who was not French to chart a course for its clothes lines.
Ferre spent seven years at Dior, traveling between Milan and Paris, minding his labels as well as the French one and adding his trademark dramatic embellishments to classic Dior style.
L'architetto Ferre -- as the portly, dignified and always well-turned out designer was affectionately called; he was also called the Frank Lloyd Wright of Fashion -- was famous for his special brand of pant suits, the classic 'billowing' white shirt and garments that were compared to sculpture.
Actresses Sharon Stone, Sophia Loren, Julia Roberts, Elizabeth Taylor; television host Oprah Winfrey; singer Barbra Streisand; English royalty Princess Michael of Kent; Queen Rania of Jordan; designer Paloma Picasso; Bernadette Chirac, former French president Jacques Chirac's wife; Claude Pompidou, the late French president Georges Pompidou's wife, and Princess Diana all wore his clothes.
citizen.reporter@rediffmail.com
Photograph: Giuseppe Cacace/Getty Images