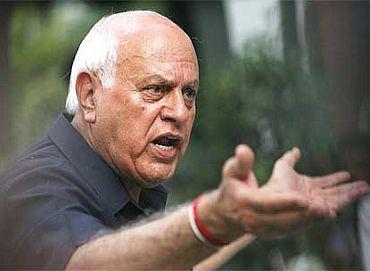 National Conference leader Farooq Abdullah on Friday came out in defence of actor Aamir Khan, saying the controversy surrounding him was a "propaganda" and the actor never said that he wanted to leave the country.
"When did he say that he wants to leave the country? I was myself sitting there. It is a wrong propaganda against him. He never said that he wants to leave India, he (Aamir) said that India is my country. I am born from this soil and I will die in this soil," Abdullah told reporters in Jammu on Friday.
He said that there was no reason for Aamir to leave India as he had never said that, but blamed the media for spreading a false propaganda against the film actor.
Farooq paid tributes to veteran Congress leader and former Finance Minister of J&K, Lt Girdhari Lal Dogra, on his death anniversary at a function in Jammu.
Deputy Chief Minister Nirmal Singh, Minister C P Ganga, Priya Sethi, BJP leader and Speaker J&K Assembly Kavinder Gupta were also present at the occasion.
Speaking at an award ceremony, Aamir Khan had said, "To complete my answer that there is a sense of fear more than there was earlier. I do feel there is a sense of insecurity. When I sit at home and talk to Kiran. (Wife) Kiran and I have lived all our lives in India. For the first time, she said, should we move out of India?
"That is a disastrous and big statement for Kiran to make to me. She fears for her child. She fears about what the atmosphere around us will be."
Abdullah said that Indian Muslims were proud to be Indians and nobody wants to go to Pakistan.
"You should ask this to the Governor of Assam who is sitting there and making such statements. Nobody is ready to go to Pakistan from here. We are Indians and Indian Muslim is no less than anyone else as we are proud of being Indians," he said.
He said that God did not ask the people where they want to be born, so we have to accept everybody irrespective of the religion he was born in.
"We are proud to be Indians. If I was born in Jawaharlal Nehru's house and Indira Gandhi was born in Sheikh Abdullah's house but God did not ask us where we wanted to be born," he said.
He said that these days people are trying to create a wedge amongst different societies.
"Who are we to differentiate but these days we are doing it. We all are Indians and we have to live in India and help develop this country. This India does not belong to any one individual but it belongs to everybody and even our religion tells us that if you are unable to love your country then you won't be able to love your Allah," Abdullah said.
Without naming anybody, Abdullah said few people in the country are giving provocative statements.
"Yes, there are many people who make strange statements but they won't be able to break this country. India is a very strong country because its roots are strong which nobody can cut," he said.
The former Union minister said that once he told Narendra Modi (who was then chief minister of Gujarat) that "I want to see a type of India in which if I look into your eyes, I can see my Allah and when you look into my eyes, you see your God. We have to make that India. We don't have to make that India in which we see differences."
Abdullah said that the differences will break this country.
"It will destroy our India. We have to save ourselves from this and it is the responsibility of the present government to save this country," he said.
He said that India was capable to deal with external aggression, but it faces a threat from the dangers which were lurking inside the country.
"Never think that India faces any threat from outside. We can face that threat but the dangers which are lurking inside we should focus on that. The hatred which is being spread these days," he said.
He said that the threat was there and people were feeling scared as some people were provocative statements.
"People are afraid as there are some people who make such statements which increase threat amongst others. They should make statements with caution and the people who hold major positions should exercise restrain because it has a bigger impact," he said.