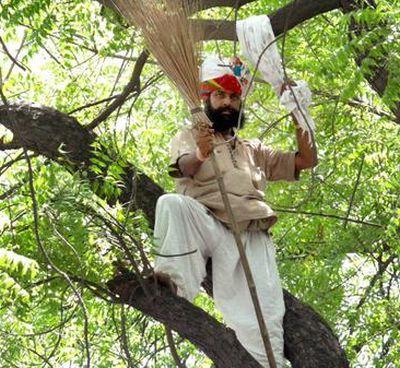 The family of Rajasthan farmer Gajendra Singh on Friday rejected the apology by Arvind Kejriwal for continuing with the Aam Aadmi Party rally in Delhi, while the farmer hanged himself to death and demanded a Central Bureau of Investigation probe into the incident.
"What will happen now after this apology? My brother has died. Kejriwal did not stop the rally for even two minutes after the incident," the farmer's sister Rekha told reporters in Nangal Jhamarwada village in Dausa.
Rekha reiterated the family's claims that the farmer was provoked to take the extreme step.
"He might have been provoked... some conspiracy may be behind this," she said. The aggrieved family also demanded a CBI probe into the incident.
"We doubt this incident and demand a CBI inquiry in the case and asked minister Rajendra Rathore to take up this with the Union Home Minister Rajnath Singh," the farmer's uncle Gopal Singh, a local Sarpanch told PTI.
Rajasthan health minister Rajendra Rathore who reached the native village of the deceased farmer, handed over a cheque of Rs 4 lakh to the family on the behalf of BJP.
The farmer's uncle told media that the family has also asked for the status of 'Shaheed' (martyr) for Gajendra and naming the relief package for farmers after his name.
"Arrangement for good education for his children and a government job to his kin were among other demands raised before the minister who in return assured us that our grievances will be discussed with the chief minister," he said.
Gajendra's brother Vijendra and daughter Megha had said on Thursday that Singh was not the one who would commit suicide and the handwriting in the purported suicide note was not his and demanded a probe into it.
Delhi Chief Minister Arvind Kejriwal had offered an apology on Friday for not calling off the AAP rally on Wednesday after the incident and admitted that his making a speech was a 'mistake'.
Meanwhile, the post-mortem report of farmer Gajendra Singh says that he died from hanging, the Delhi police confirmed on Friday. "As per preliminary finding from post-mortem report, death is due to hanging," Delhi Police Commissioner B S Bassi told media persons. He also said that the Delhi police is a part of the government and there was no infighting with anyone.
"We take all actions as per rule of law. All appropriate actions will be taken," he added.
As per reports, a suicide note was found that revealed the farmer, who had three children, was banished from his house after his crop was damaged. He took the extreme step because he had no means of support his family.
With inputs from PTI