On Thursday, the Supreme Court will pronounce its much-awaited verdict on a clutch of petitions seeking decriminalisation of a 158-year-old colonial law under Section 377 of the IPC which criminalises consensual gay sex.
Rediff.com gives you a lowdown on the controversial law: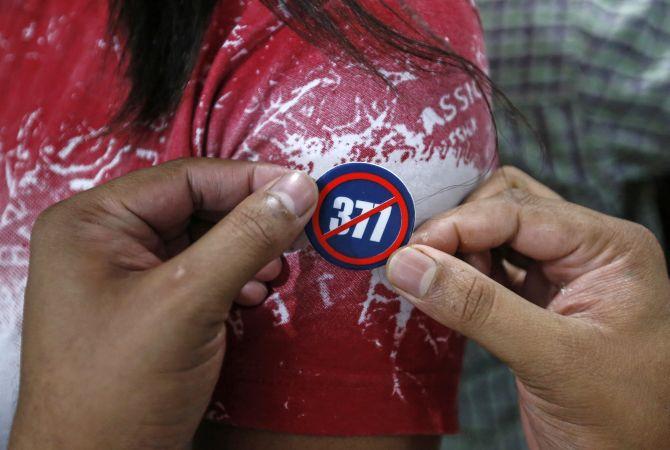 What does the law say?
Section 377 of the Indian Penal code makes carnal intercourse, or any non-procreative sexual act between a man and a woman illegal, punishable with up to 10 years in jail and/or a fine.
Though it doesn't apply only to homosexuals, it is widely perceived as the anti-gay sex law. It only penalises carnal intercourse against the order of nature. This covers homosexuals and heterosexuals alike.
So…has anyone being arrested under Section 377?
According to a Deccan Herald report, at least 750 cases were registered and 600 people were arrested under Section 377 in 2014, after the SC struck down the 2009 Delhi HC verdict, which decriminalised homosexuality.
But gay activists have often alleged that the law gives an opportunity to people to use and abuse the criminal justice system.
How can one be prosecuted under section 377?
To be prosecuted under Sec 377, there needs to be documentary proof of 'carnal intercourse against the order of nature'. This involves medical examinations right after the act, and sufficient proof beyond doubt that penetration occurred.
Consensual practices like fellatio and digital penetration may also be a punishable under this law.
Why are people who are not gay getting so worked up about this?
Maybe simply because consenting adults should be allowed to do whatever they want, as long as it does not impinge on the rights of others.
What did the high court rule on the issue in 2009?
In 2009, the Delhi high court ruled that Section 377 was unconstitutional. This ruling was based on violations of sections 14 (equality before law), 15 (protection from discrimination) and 21 (protection of life and liberty) of the Indian constitution.
It read down Sec 377 and excluded 'consensual' acts of carnal intercourse from its purview.
And what did the Supreme Court say about it in 2013?
A bench of justices G S Singhvi and S J Mukhopadhaya set aside the Delhi high court's verdict which had in 2009 decriminalised gay sex among consenting adults in private.
The bench allowed the appeals filed by various social and religious organisations challenging the high court verdict on the ground that gay sex is against the cultural and religious values of the country.
The bench, had, however, put the ball in Parliament's court to take a decision on the controversial issue, saying it is for the legislature to debate and decide on the matter. With the apex court verdict, the operation of penal provision against gay sex has come into force.