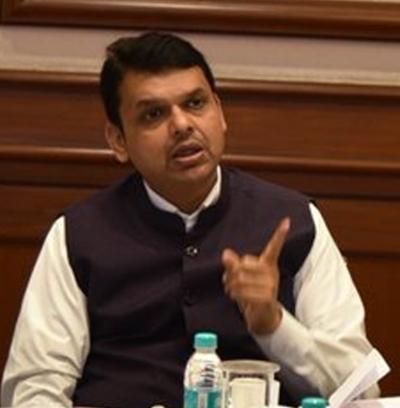 Maharashtra Chief Minister Devendra Fadnavis has asked ally Shiv Sena to stop attacking Prime Minister Narendra Modi, cautioning that it will only boomerang on it.
However, he asserted that their alliance is intact and the government will complete its full term, despite frequent taunts and digs from Sena.
"Speaking about Modiji will only put the Shiv Sena in bad light and people do not like it at all. As far as I am concerned I am ready to face and give them a proper reply. So I do not care.
"Governance and politics are two different things. The Sena should refrain from criticising the Prime Minister, but I am ok with their criticism," Fadnavis told PTI in an interview.
Fadnavis (46), who heads the first BJP-led government in Maharasshtra which has sailed into its third year, also dwelt on other current issues like the campaign by the Maratha community for reservation, the Vidarbha issue and the controversy regarding his intervention in defusing the stand-off over Karan Johar's film Ae Dil Hai Mushkil.
In a veiled dig at the previous Congress-NCP regimes, he said the "established leadership" in the state are trying to use peoples' anger that has now spilled on to the streets in the form of silent protests by Marathas to carry out their agenda against him either directly or by "proxy" means.
Fadnavis, however, rejected the apprehension voiced by observers that the Maratha morcha and reaction to it from the OBC and Dalit outfits, could cause caste tensions in the state.
He noted that the Maratha community had only raised its demands without seeking to upset the benefits of other social segments and the same is the case of OBCs and Dalits.
He said the government has already stated its commitment to meet the genuine demands of the Maratha community. The fee waiver scheme announced recently is an initiative that will benefit a large number of students from the community.
Expressing confidence that the BJP and Sena will complete the full term of the government, he said, "We are two different parties and there is bound to be some friction owing to different ideologies in matters of policy implementations and style of governing.
"But I can claim that we have been able to run the government successfully where all major policy decisions have been undertaken by a unanimous vote," he said.
Dismissing the suggestion that the morcha launched by the Maratha community is directed towards his government, Fadnavis said their anger springs from the "historical injustice" suffered by them under successive regimes, which made nearly 80 per cent people remain in agony.
"One segment of the Maratha community comprises 20-25 per cent people who have been ruling the state, have been ministers, MLAs, have been controlling the cooperative sector, controlling private educational institutions and are absolutely wealthy and well to do. Then there is 75-80 per cent people who have been left out," he said.
"This is the agony of these left outs and it is not just against governments but against these 20-25 per cent people as well. Established leadership was not allowed to take centre stage (in the protests)," he said.
"Among the established leadership, there are people who have been trying to target me using this platform but fortunately the organizers of these protests have not allowed them till date to do this. These people are also trying to put in front some proxy organizations since they are not allowed to direct this anger against the government. But I am sure they will not be allowed to do that as well," Fadnavis said.
On the controversy surrounding the release of Ae Dil Hai Mushkil, the chief minister said that in hindsight, the issue could have been handled in a better way, but at that time, he did what he felt was right.
"If Raj (MNS chief Raj Thackeray) wouldn't have created that controversy, things were settled. In that case, everybody would have said the CM did a wonderful job. Without any problem the issue got solved.
"Since Raj asked for Rs five crore, it was over hyped by national media. I think today one can say the issue could have been handled in a better way due to the controversy it generated. I did what I felt right at that time," Fadnavis said.
On the demand for a separate Vidarbha state, an issue over which not only the Congress-NCP opposition but also Shiv Sena had often targeted him since he hailed from the region and also as his party's preference for smaller states, Fadnavis said his government's agenda is to ensure balanced development of Maharashtra.
"The statehood issue is a matter in the domain of the Centre. I have made it amply clear whenever the issue was raised. For me, what is important is balanced development of entire Maharashtra, including Vidarbha and Marathwada," he said.
Photograph: EknathKhadse/Twitter