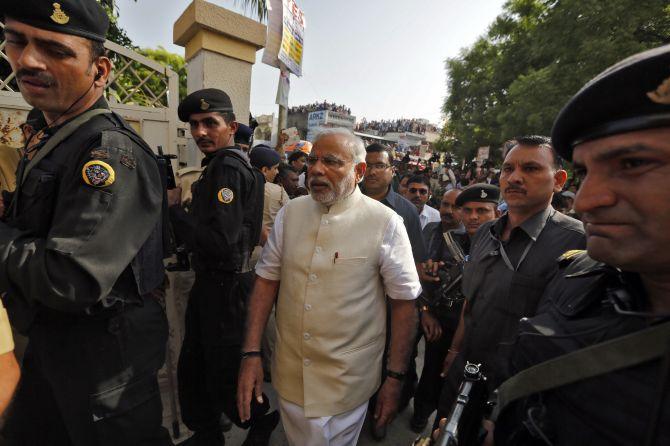 The Cabinet Committee on Security on Wednesday decided to enhance security for President Pranab Mukherjee, Vice President Hamid Ansari, Prime Minister Narendra Modi and Sonia and Rahul Gandhi, who are protected by the Special Protection Group.
The enhanced security is based on intelligence inputs to the CCS in the backdrop of surgical strikes across the Line of Control last week.
The SPG has been asked to provide extra layer of security to the prime minister and carry out mock drills in and around 7, Lok Kalyan Marg, his official residence and South Block, where his offices are located.
A special armoured vehicle, designed by security experts at the Defence and Research Development Organsiation with assistance by the Indian Army, has also been provided for the prime minister. The car is presently parked at the PM's official residence. It is in the process of being inducted into the prime minister's motorcade.
Modi was recently also given a mock drill and briefed about escape routes in case of a sudden terrorist strike or a natural disaster.