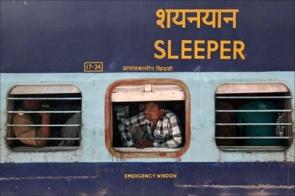 Three passengers were killed and 37 others injured when ten coaches of a train derailed at
Ghoti near Igatpuri in Nashik district on Friday morning.
The mishap took place at around 6.20 am when the Nizamuddin-Ernakulam Lakshadeep Mangala Express train was passing through the Ghoti-Igatpuri section, nearly 35 km from Nashik, a spokesperson of the Central Railway said in Mumbai.
While three passengers were killed in the mishap, 37 others sustained injuries and have been admitted to different hospitals, railway sources said.
Two of the deceased have been identified as Rahul Kushwaha, 31, from Aligarh and Satbir Singh from Haryana.
The body of another deceased passenger was trapped between two derailed coaches and was yet to be extricated and identified, sources said.
CR sources said that out of the 23 injured, seven were admitted in Nashik Civil Hosptial, three at Vakratunda Hospital in Nasik, two in Gramin Hospital at Ghoti and 11 were being treated for minor injuries.
Nearly 450 passengers were brought by buses from the derailed site to Igatpuri station. A special train carrying Mangala Express passengers had left Igatpuri for Ernakulam and will halt at Kasara.
The cause of the accident is yet to be ascertained, a CR official said.
Rescue operations are being carried out with the help of railway police and rural security personnel, police said. Cranes have been pressed into service to lift the derailed coaches, they said.
The Central Railway has set up a helpline number for inquiries from anxious relatives and family members of the passengers, the official said.
Following the mishap, rail traffic on the up side was affected, forcing railway authorities to cancel various trains, including 12109 and 12110 Godavari Express, 22101 and 22102 Rajya Rani Express, 51153 and 51154 Bhusaval-Mumbai Passenger and 17618 Tapovan Express, railway sources said.