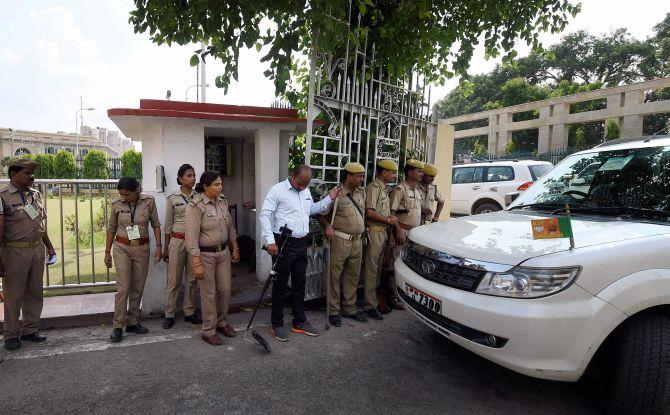 In a major security breach, a powerful plastic explosive was found in the Uttar Pradesh Assembly, Chief Minister Yogi Adityanath on Friday informed the House, which unanimously recommended an National Investigation Agency probe into it.
Uttar Pradesh Police swung into action and registered a first information report against unknown persons after recovery of the explosive.
The FIR was lodged under various sections of Unlawful Activities Prevention Act and IPC sections 120B (criminal conspiracy) and 121A (conspiring to wage war).
As soon as the House met this morning, Adityanath, who earlier chaired an emergency security meeting, informed that white powder was found wrapped in a paper close to the seat of the Leader of the Opposition Ram Govind Choudhary.
The explosive was found by the cleaning staff on July 12. The quantity of the explosive was 150 grams. According to experts, 500 gm of this explosive is enough to blow up the House, the chief minister said.
After the powder was sent for FSL examination, it was found to be a dangerous plastic explosive PETN (Pentaerythritol tetranitrate), he said.
The dog squad failed to detect the explosive kept under the cushion of a seat.
"Initially it was thought that it was some powder or chemical but after FSL (Forensic Science Lab) report it was found to be PETN, which is high quality Hexogene and plastic explosive," he said.
PETN is one of the most dangerous plastic explosives available in the black market and preferred by militants as the colourless crystals easily surpass security checks.
Adityanath said the explosive was found under the bench, third from where the Leader of Opposition sits.
Additional Director General (Law and Order) Anand Kumar later explained to mediapersons that for explosion three things -- explosive, detonator and power pack (source of power) -- are needed.
"Here only explosive has been found," he said, adding that 150 grams of PETN was not sufficient to cause any explosion.
He said probe is on in the matter and CCTV footage will be studied.
In a related incident, one person has been arrested in Deoria, 325 km from state capital Lucknow, for allegedly threatening to blow up the Assembly on August 15.
Farhan Ahmed was arrested yesterday and his mobile phone seized, Additional Superintendent of Police Chiranjeevi Sinha said.
Ahmed, 20, was being interrogated by local police and intelligence officials from Delhi, Sinha added.
Ahmed had allegedly told the ADG (Law and Order) on his mobile phone that he would blow the UP legislature building on Independence Day.
However, the ADG said, it would be too early to link Ahmed with the recovery of the explosive from the Assembly.
In the home department press briefing, IG (ATS) Aseem Arun said the probe has been taken over by the ATS.
He said fool proof security arrangements will be made. To a question as to from whose seat the explosive was found, Arun said, "The seat is identified and if needed we will inquire from the member and those sitting around him. We are getting support from all."
In his suo motu statement, the chief minister said, "The security of the House is our concern. This is part of a dangerous terrorist conspiracy and should be exposed. The state government wants to get an NIA probe done in the matter and police verification of employees and officials working in Vidhan Bhawan."
Stressing that there should be no compromise on security, he said joint efforts were needed to ensure this.
"It is a dangerous tendency that the security of the assembly has been breached when the House is in session," he said.
"So far the government was worried about security outside the assembly, and now this has become a more serious matter," he said and appealed to Speaker Hriday Narain Dixit to ensure police verification of the assembly staff because security of over 500 MLAs and MLCs was at stake.
Adityanath noted that it was not just a matter to be condemned by the House, but the need was to give a befitting reply.
The speaker then said, "We all agree for the NIA probe to be done in the recovery of explosives to expose the conspiracy behind this."
The chief minister also said, "As no one is allowed inside the House except legislators and marshals, the matter becomes serious. The matter is related with sentiments of 22 crore people of the state. As we have no objections in checking at airports, we (legislators) should also support this here. I also ask them not to bring mobile phones and keep their bags outside the House and a system should be evolved for this."
He also mentioned lack of coordination between security agencies and said there was no mechanism to counter terrorist attack, if any, in the House.
"There should be Quick Response Team (QRT) at every gate and there should be a uniform security system. We have decided to pass a resolution to condemn such an act. Some persons are up to doing mischievous acts and NIA should expose them", he said.
The House passed a resolution recommending an NIA probe into it.
Noting that the UP Assembly was the biggest in the country, Adityanath said the entire country keeps an eye on proceedings here with a hope to 'see something new and good'.
"No compromise will be made on the security of the assembly which has 503 members (including Legislative Council). A joint effort is needed for this. This is a dangerous tendency that security of assembly is breached when House is in session," he said.
After the chief minister's statement, the speaker announced several measures to ensure security of the House besides agreeing to recommend a NIA probe.
"We have met earlier (before the House assembled) and decided on several security measures to be introduced in the House. On all the gates QRT of Provincial Armed Constabulary (PAC) will be deployed and whole body scanners will be installed. All the entry pases issued to MLAs and their representatives will be cancelled and only one vehicle pass will be issued to MLAs," the speaker said.
The driver of legislators will be verified and those having no pass will not be allowed entry inside assembly premises, he said.
Passes issued to former MLAs and others will also be cancelled and police verification of assembly staff will be done, he said.
The speaker also allowed an Anti-Terrorism Squad team inside the House stating that 'we are a family and no one will be allowed to raise a finger at it'.
Parliamentary Affairs minister Suresh Kumar Khanna said all measures, as directed by the speaker, will be taken to ensure Vidhan Bhawan's security.
The Leader of Opposition said they accepted the measures stating that no one should be allowed to breach security of the House.
Bahujan Samaj Party member Uma Shankar Singh said it was a matter of concern that despite having jammers, mobile phones used to ring inside the House.
Samajwadi Party members expressed shock over the recovery of the explosive material.
"It is astonishing. How is it possible? Explosives reaching inside the House is a serious matter," said SP legislator Shailendra Yadav.
Leader of Opposition Ram Govind Chowhdury (SP) said the matter was serious and the security of the House should be taken care of.
While some members like Nitin Agarwal (SP) got to know about the development through media reports, others were seen updating their fellow legislators about it.
IMAGE: A policeman checking the entry pass of a visitor outside Uttar Pradesh assembly after PETN explosive were found, in Lucknow on Friday . Photograph: Nand Kumar/PTI Photo