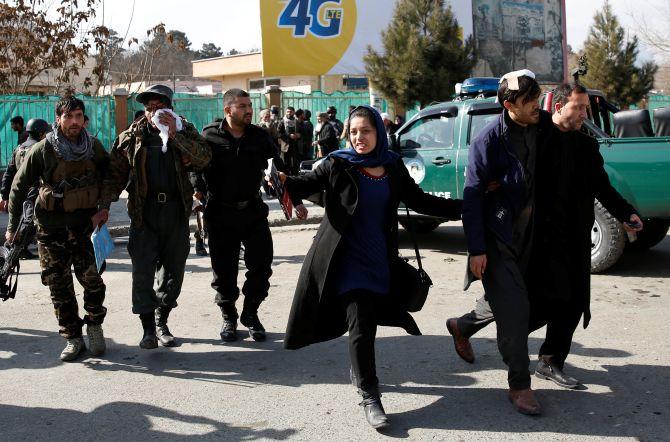 At least 95 people were killed and 163 others wounded when an ambulance packed with explosives blew up in a crowded area of Kabul on Saturday.
The attack is claimed by the Taliban.
However, the Afghan government said the attack was a handiwork of the Haqqani Network.
The explosion -- one of the biggest since a truck bomb ripped through the Afghan capital's diplomatic quarter on May 31 last year -- triggered chaotic scenes as terrified people fled the area where several high-profile organisations, including the European Union, have offices.
Officials confirmed the rise in death toll to 95 and put the number of injured to 163.
According to Afghanistan's TOLO News, the explosive laden ambulance was detonated between two checkpoints outside the old Ministry of Interior building close to Sedarat Square, close to well known Chicken Street.
The force of the blast shook windows of buildings at least two kilometres away and shattered windows within hundreds of metres of the site.
Some low-rise structures in the vicinity of the explosion also collapsed.
The interior ministry said 'the suicide bomber used an ambulance to pass through the checkpoints. He passed through the first checkpoint saying he
was taking a patient to Jamuriate hospital'.
"But he was stopped at the second checkpoint and blew his explosive-laden car," the ministry's spokesman said.
This is the second big attack by the Taliban in a week, after the attack on Intercontinental Hotel in Kabul in which 22 people were killed.
The explosion happened in a busy part of the city where the High Peace Council, which is charged with negotiating with the Taliban, has offices.
The Indian ministry of external affairs condemned the attack.
'India strongly condemns barbaric terrorist attacks in Kabul targeting innocent civilians. This follows the cowardly attack on children and civilians in Jalalabad on January 24. There can be no justification for it. The perpetrators and their supporters should be brought to justice,' the MEA said in a statement.
'India stands in solidarity with the government and people of Afghanistan at this difficult time of mindless violence and terror imposed on them. We convey our heartfelt condolences to the kin of victims of these terror attacks and pray for speedy recovery to those injured,' the MEA said.
'India stands ready to extend all possible assistance, including for treatment of those injured,' the statement read.
With ANI inputs.
IMAGE: Afghan security forces members and civilians assist the injured after a blast in Kabul on Saturday. Photograph: Mohammad Ismail/Reuters