British data analytics firm Cambridge Analytica is at the centre of a controversy in India, the United States and Britain after two newspapers reported on Sunday that the company harvested personal data about Facebook users beginning in 2014.

How does that matter, what does it entail and should you be worried?
All these answers and more, explained right here.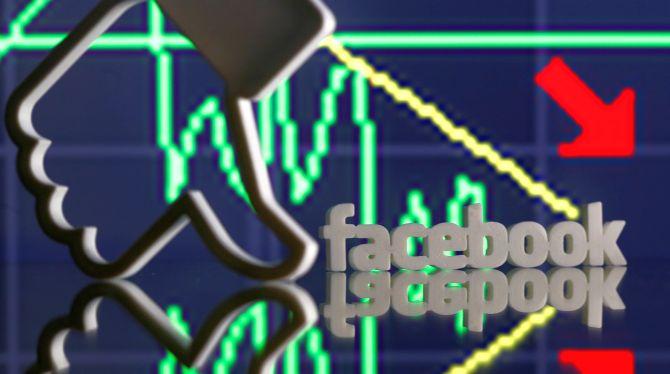 IMAGE: Following the data breach, Facebook, the social media giant, has suffered a loss of $50 billion in market value. Photograph: Dado Ruvic/Reuters
>> What is Cambridge Analytica?
Cambridge Analytica is an offshoot of SCL Group, a government and military contractor that says it works on everything from food security research to counter-narcotics to political campaigns. SCL was founded more than 25 years ago, according to its website.
Cambridge Analytica was created around 2013 initially with a focus on United States elections, with $15 million in backing from billionaire Republican donor Robert Mercer and a name chosen by future Trump White House adviser Steve Bannon, the New York Times reported.
>> What does this firm do?
Cambridge Analytica helps political campaigns reach potential voters online. The firm combines data from multiple sources, including online information and polling, to build "profiles" of voters.
The company then uses computer programs to predict voter behaviour, which then could be influenced through specialised advertisements aimed at the voters.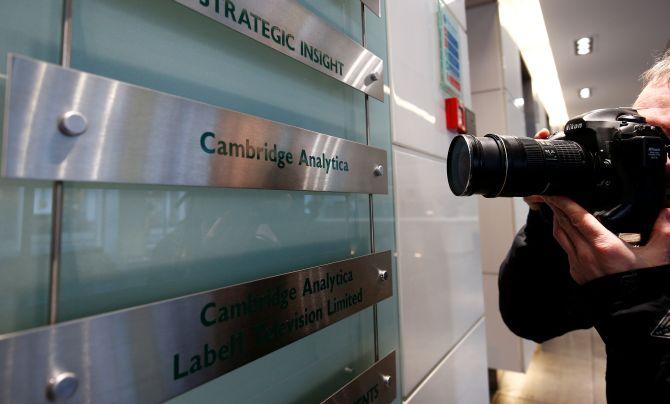 IMAGE: The nameplate of political consultancy, Cambridge Analytica, in central London, Britain.
Photograph: Henry Nicholls/Reuters
>> What's the link between Facebook and Cambridge Analytica?
Facebook said in a statement late on Friday, March 16, that Cambridge Analytica received user data from Aleksandr Kogan, a lecturer at the University of Cambridge.
Kogan reportedly created an app called "thisisyourdigitallife" that offered personality predictions to users while calling itself a research tool for psychologists.
The app asked users to log in using their Facebook account. As part of the login process, it asked for access to users' Facebook profiles, locations, what they liked on the service, and importantly, their friends' data as well.
The problem, Facebook says, is that Kogan then sent this user data to Cambridge Analytica without user permission, something that's against the social network's rules.
"Although Kogan gained access to this information in a legitimate way and through the proper channels that governed all developers on Facebook at that time, he did not subsequently abide by our rules," Paul Grewal, a vice president and general counsel at Facebook, said in a statement.
>> What is Facebook doing in response?
The company issued a statement saying that in 2015, when it learned that Dr Kogan's research had been turned over to Cambridge Analytica, violating its terms of service, it removed Dr Kogan's app from the site. It said it had demanded and received certification that the data had been destroyed.
On Thursday, Mark Zuckerberg, the CEO of the social media giant, also broke his silence on the issue saying that he admitted they had mistakes and explained the steps they would be taking to protect their users' data.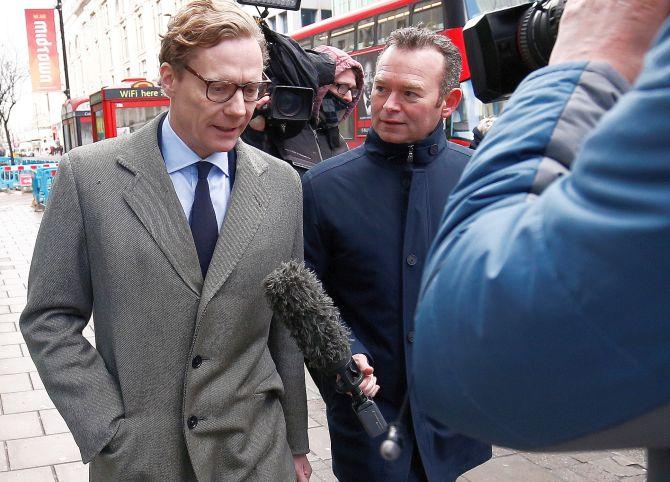 IMAGE: Alexander Nix, CEO of Cambridge Analytica, has been suspended following the revelations of the data breach. Photograph: Henry Nicholls/Reuters
>> Where does Trump's campaign fit in?
The Trump campaign hired Cambridge Analytica to run data operations during the 2016 election. Steve Bannon, who eventually became Trump's chief strategist, was also reportedly vice president of Cambridge Analytica's board.
The company helped the campaign identify voters to target with ads, and gave advice on how best to focus its approach, such as where to make campaign stops. It also helped with strategic communication, like what to say in speeches.
>> Does this mean Trump won the US elections ufairly?
This is a broader question: Does Cambridge help win elections? Or, put another way: How much of Cambridge's rhetoric about psychographics is just hype?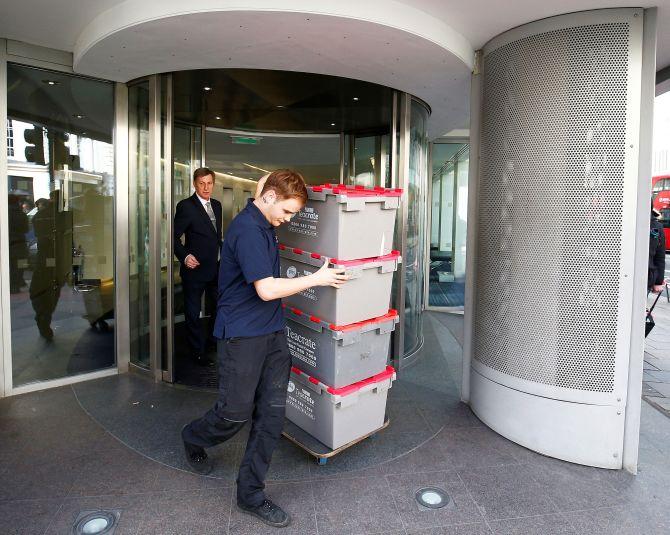 IMAGE: A man wheels storage crates from the building that houses the offices of Cambridge Analytica in central London. Photograph: Henry Nicholls/Reuters
>> The Indian connection…
The Bharatiya Janata Party and the Congress on Wednesday traded charges over a Facebook data scandal involving private firm Cambridge Analytica, with the ruling party accusing its rival of 'data theft' to woo voters ahead of 2019 Lok Sabha polls, a claim the opposition party rejected.
The Congress also hit back alleging that the "BJP's factory of fake news has produced one more fake product", and accused it of hiring the firm's services in several elections, including in the 2014 Lok Sabha polls.
>> What happens next?
Facebook, already facing deep questions over the use of its platform by those seeking to spread Russian propaganda and fake news, is facing a renewed backlash after the news about Cambridge Analytica. Investors have not been pleased, with the company suffering a loss of $50 billion in market value.
US senators have also urged Facebook boss Mark Zuckerberg to testify before Congress about how the social media giant will protect its users.
Alexander Nix, CEO of Cambridge Analytica, was suspended. Cambridge Analytica said it would proceed to carry out a full and independent investigation following the reports.
>> Is there anything I, as a user, can do?
There isn't much. You may've been swept up in this without even knowing it. You don't have to have downloaded Kogan's app to have had your information accessed.
You should also check your privacy settings on Facebook.