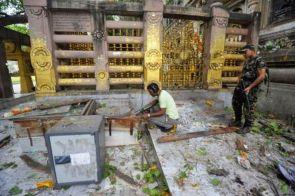 It might have taken several years, but the intelligence and security agencies in several states recently tracked down and arrested dreaded terrorists involved in creating havoc in the country.
It began with the arrest of Zabbiuddin Ansari, an accused in the 2008 Mumbai terror attacks, then came the arrest of Lashkar-e-Tayiba bomb maker Abdul Karim Tunda, followed by Indian Mujahideen co-founder Yasin Bhatkal, IM stand-in chief Tehsin Akhtar and Zaveri Bazaar bomber Waqas Ahmed.
In a five-part series, Rediff.com's Vicky Nanjappa reveals how each of these terrorists were painstakingly tracked by the Intelligence Bureau and arrested by the security agencies.
Part I: How Tehseen Akhtar was captured... Read it below

Part II: How IM's bomb expert was caught

Part III: How Lashkar's discarded bomb maker was captured

Tehsin Akhtar, politically well-connected and a top Indian Mujahideen operative, is alleged to have masterminded a series of terror attacks in India.
He has been one of the toughest catches for the Intelligence Bureau that launched a hunt for him four years ago.
His name first cropped up in 2006 after the Varanasi blasts that left 20 people dead.
Born on July 7, 1990, at Samastipur in Bihar, he was just 16 when he carried out his first terror operation in Varanasi. Security agencies did not know much about him then. Three years of interrogations and intercepts were compiled to prepare a file on Akhtar.
The police came close to arresting him several times, but he always eluded capture.
Akhtar is alleged to involvement in major attacks like the 2011 Mumbai bombings, the 2013 Dilsukhnagar blasts in Hyderabad, the Jama Masjid attack and the Bodhgaya and Patna blasts. After carrying out an attack Akhtar did not move to Pakistan, continued to live in India and always evaded the security agencies.
Like Indian Mujahideen co-founder Yasin Bhatkal, Akhtar was adept at changing his appearance, used technology sparingly, which made tracking him even harder. His connections in Samastipur and Darabhanga in Bihar were strong, which made hiding from the law easy for him.
After carrying out an attack, Akhtar fled to Bihar, reveal several officers assigned the task of hunting him down. He had sanctuary in Samastipur with a network to protect him, these officers say.
His political connections in Samastipur were so strong that at times even the local police were not forthcoming with information.
When the Intelligence Bureau realised that arresting Akhtar from Samastipur was proving difficult, they came up with a plan.
Based on intercepts and information obtained from Yasin Bhatkal's interrogation, the IB knew Akhtar had twice crossed the border in recent months to visit Nepal.
He had been to Nepal twice in 2013 and was also known to travel to Munnar in Kerala, Rajasthan and Uttar Pradesh. His first visit to Nepal was after the Patna blasts last October.
The agency coordinated with its counterparts in Nepal, but the plan was scrapped due to lack of information.
In February, the IB collected intercepts and e-mails between Akhtar, his accomplice Waqas Ahmed and calls from Riyaz Bhatkal in Karachi. It suggested that Akhtar was to travel to Pakistan after completing an 'operation'.
Arrangements were being made for him to shift to Pakistan for a year.
Akhtar, IB sources revealed, had a passport made on a fake identity provided to him by an IM module in Kerala.
Akhtar and others planned to bomb the luxury train Palace on Wheels and had planned attacks at several election rallies in Rajasthan.
The planning for the attack was held in Rajasthan and Jharkhand where the IM had established a new module.
In the first week of March, Akhtar asked Waqas Ahmed to leave for Nepal and bring back some recruits. They planned on deploying men with no criminal records.
Akhtar himself left for Nepal 10 days after his meeting with Ahmed.
He was detained near the India-Nepal border in the Pani Tankhi area of Naxalbari.
He was travelling to Nepal to collect money and also bring back recruits for the Rajasthan operation.
An IB team monitoring Akhtar's movements and camping in the area passed on the information to other security agencies.
He was arrested after the agencies acted on a tip-off that Akhtar was meeting an accomplice.
Part 2: How Waqas Ahmed, the Zaveri Bazaar bomber, was arrested.
Image: Security personnel inspect the site of an explosion inside the Mahabodhi temple complex at Bodh Gaya. Photograph: Krishna Murari Kishan/Reuters