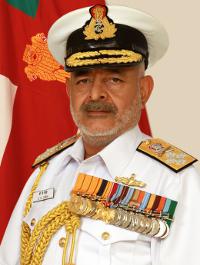 The sudden resignation by Admiral D K Joshi as navy chief in the wake of a spate of mishaps has been treated by the government as "voluntary retirement, which will ensure that he will not be deprived of any retirement benefits. The government has gone out of the way to give him the waiver as he would have otherwise been deprived of certain benefits such as certain monetary benefits and usage of his rank.
Joshi, who had about 15 months left in service, had resigned on February 26 taking "moral responsibility" over the spate of mishaps involving naval warships in the last seven months.
Defence Minister A K Antony accepted his resignation immediately. However, the ministry later moved a proposal to treat "acceptance of the resignation" as "acceptance of the request for voluntary retirement" with effect from the date of his resignation, sources said.
To ensure that the process is foolproof, the ministry got the approval of President Pranab Mukherjee, who is also the Supreme Commander of Armed Forces. Joshi had resigned hours after submarine INS Sindhuratna met with an accident in which seven sailors were taken seriously ill and two officers were missing.
Military law expert and lawyer Major SS Pandey said as per the administrative instructions by the Services headquarters, "Resignation cases are generally not given retirement benefits and allowed to use the rank held by the person."
"However, the Supreme Court has settled the issue in one Lt Col PS Bhargava's matter where apex court said that these instructions are incorrect and whether pre-mature retirement or resignation, if a person has put in requisite service and otherwise entitled to benefits, the same cannot be denied to him," he said.
However, the Supreme Court has not settled the issue of whether an officer resigning from the President's Commission can use his rank, he said.