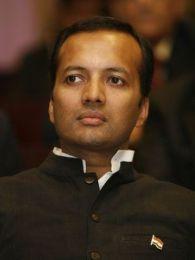 Central Bureau of Investigation has booked former Minister of State for Coal Dasari Narayan Rao and Congress MP and industrialist Naveen Jindal for alleged cheating, graft and criminal misconduct in its 12th FIR in the coal blocks allocation scam, causing embarrassment to the ruling Congress.
During its eight-month long probe into the scam, it is for the first time the then minister of state has been named as accused in an FIR by CBI in which it has alleged that he received Rs 2.25 crore camouflaged as investment from one of Jindal's firm within a year of allocating him a coal block. CBI sources said Jindal Steel and Power Limited and Gagan Sponge Iron Limited, also a firm of Jindal's, had bagged Amarkonda Murgadangal coal block in Birbhum, Jharkhand in the year 2008 by alleged misrepresentation of facts when Rao was the minister of state for coal.
It said the misrepresentation was allegedly done on three counts -- land, water supply and previous allocations. They said JSPL allegedly claimed in application submitted in January 2007 that they had only three coal blocks with them where as actually they had at least six coal blocks. The sources said this was done to boost their eligibility for the coal block as the government was mulling to avoid monopoly of single company by not allocating large number of blocks to one firm.
Within a year, a block was allocated to JSPL in January 2008, CBI sources claimed, noting that shares of Rao's firm Saubhagya Media listed at Rs 28 that time were purchased by one of Jindal's firm New Delhi Exim Limited at whopping Rs 100 per share with total investment of nearly Rs 2.25 crore which is alleged to be illegal gratification.
Reacting to the development, Head of External Affairs, JSPL Manu Kapoor said, "JSPL, as a law abiding company, is governed by a strong ethical code of conduct. This is an ongoing CBI investigation into coal block allocation. At this stage of investigation, JSPL is committed to fully cooperate with CBI."