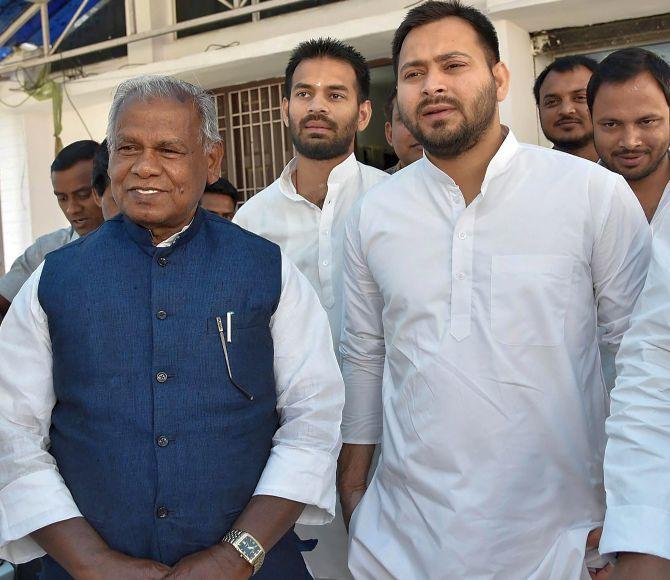 Former Bihar chief minister Jitan Ram Manjhi said that his Hindustani Awam Morcha will quit the ruling National Democratic Allaince in the state and join the opposition mahagathbandhan (grand alliance).
The mahagathbandhan currently comprises the Rashtriya Janata Dal and the Congress.
The announcement was made by Manjhi outside his residence in Patna, in the presence of RJD leaders Tejashwi Yadav, Bhola Yadav, Tej Pratap Yadav and others who had called on the former Bihar chief minister.
"We will quit the NDA and join the mahagathbandhan. A formal announcement to this effect will be made later tonight when the reasons for this major decision will also be made public," Manjhi told reporters.
Tejashwi Yadav, who is the leader of the opposition in the state assembly, said "the hollowness of the claims by the BJP-led NDA about its cohesion stands exposed. We welcome Jitan Ram Manjhi, a father figure and a champion of social justice, to the mahagathbandhan".
The development came two days after Manjhi had demanded that the NDA field at least one member from his party for the six Rajya Sabha polls in the state scheduled next month and warned that the HAM would not campaign in support of candidates of the Bharatiya Janata Party and the Janata Dal-United for bypolls in two assembly and one Lok Sabha seat scheduled for March 11.
Formerly with the JD-U, Manjhi had quit the party in 2015 after being forced to step down as the chief minister to make way for the return of Nitish Kumar.
He later on formed the HAM and joined the NDA.
Kumar, who was then with the grand alliance, returned to the NDA in July last year.
Asked whether Manjhi has been promised a Rajya Sabha seat, Tejashwi Yadav said "decisions regarding Rajya Sabha candidates will be taken at an appropriate time.
"Today's development underscores the simmering discontent within the arrogant NDA. Upendra Kushwaha (Union minister and RLSP chief) has expressed his discomfiture in the BJP-led alliance many times. It is time for people like him to take a decision," Tejashwi said.
Meanwhile, Bhola Yadav, a close confidant of RJD supremo Lalu Prasad and a party general secretary, told reporters outside the Vidhan Sabha, "Manjhi joining the grand alliance is just the beginning. A number of legislators of Nitish Kumar's JD-U are also in touch with us".
IMAGE: Rashtriya Janata Dal leaders Tej Pratap Yadav and Tejashwi Yadav with former Bihar Chief Minister and Hindustani Awam Morcha-Secular leader Jitan Ram Manjhi. Photograph: PTI Photo