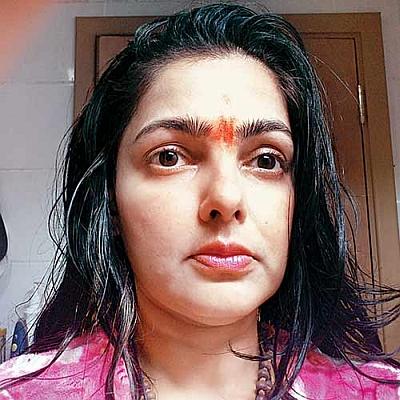 Former actress Mamta Kulkarni was on Saturday named as a prime accused in a multi-crore drug racket linked to drug baron Vicky Goswami, with Mumbai police claiming that she was actively involved in the illicit activities and would seek her extradition from Kenya.
Addressing a press conference, Thane Police Commissioner Param Bir Singh said the statements of a couple arrested in the case and inputs received from the US Drug Enforcement Agency have confirmed Kulkarni was a prime accused in the case.
Police have initiated the process for extradition of Kulkarni and Goswami, who are said to be in a relationship and are currently based in Kenya. The first step towards this would be issuance of Red Corner Notice against them through Interpol, the officer said.
He said the probe conducted so far reveals that Kulkarni was actively involved in the international racket which was busted two months ago.
In all, there were 17 accused in the case, of whom seven were still at large. The remaining 10 were arrested and are now in judicial custody.
The drug racket came to light when police seized around 18.5 tonne of ephedrine, worth approximately Rs 2,000 crore, after raiding the premises of Avon Lifesciences Ltd in Maharashtra's Solapur district in April.
According to police, ephedrine, which is a controlled drug, was allegedly being diverted from the Solapur unit of Avon Lifesciences and sent abroad after processing.
The ephedrine power is used for sniffing and is also used to produce popular party drug methamphetamine.
Singh said police have information that Kulkarni and other members of the drug syndicate participated in a meeting held on January 8, 2016 in Mombasa, Kenya where the logistics involved in transporting ephedrine were discussed.
Another meeting was held on April 8 in Dubai where two persons from Morocco were present along with Goswami and Kulkarni, he said.
It was decided that the ephedrine would be dispatched to Mombasa where it would be processed into methamphetamine and sold in the international market.
Singh said as per information with the police one kg of meth costs $50,000.
Avon, whose executives are among those arrested in the case so far, had 2 crore shares of which 11 lakh was to be alloted to Kulkarni. She was also to be inducted on the company's board.
Assets and bank accounts of Kulkarni in India, managed by Goswami and her sister, were being probed, he said.
Just before the racket was busted, 100 kg of ephedrine was manufactured at Avon Lifesciences' premises and dispatched by air to Kenya.
Payment for the same was sent by Goswami to Mukesh Jain, a director of the company, through hawala (an informal channel for transferring funds), the Thane police chief said.
Jain had gone abroad several times to meet Goswami.
The accused who are currently in jail are: Sagar Suresh Powle, Mayur Suresh Sukhdhare, Rajendra Jagdambaprasad Dimri, Dhaneshwar Rajaram Swami, Puneet Ramesh Shringi, Manoj Tejraj Jain, Hardipsingh Indersingh Gill, Narendra Dhirajlal Kacha, Babasaheb Shankar Dhotre and Jai Mulji Mukhi.
Those on the run include Kishore Rathod, said to be the son of a former politician, and an accused identified only as Dr Abdullah, who is based abroad, as well as two of his associates, police said.
The US Drug Enforcement Administration authorities have already shared details about Abdullah, they said.
The entire drug racket first came to light when Thane Police arrested a Nigerian national in a drug case on April 18. His interrogation led police to Solapur, where they conducted raids in the premises of Avon Lifesciences.
Hundred samples of power seized from the factory were sent for chemical analysis and 50 of them were found to be ephedrine. Results of other samples were awaited, police said.