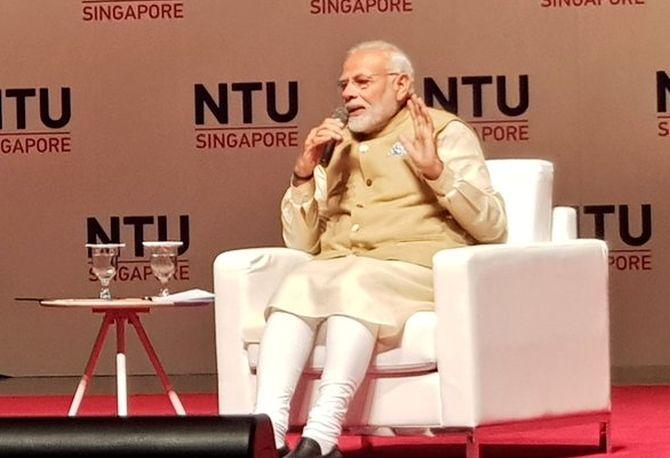 IMAGE: PM Narendra Modi participates in a discussion at the Nanyang Technological University in Singapore on Friday. Photograph: Courtesy @MEAIndia/Twitter
Prime Minister Narendra Modi on Friday said every disruption should not be seen as destruction, as he underscored the importance of a technology driven society in bridging the social divide.
Observing that technology is giving voice to millions around the world and helping in breaking social barriers, Modi also stressed the need for combining innovation with human values to resolve the challenges of the 21st century.
Participating in a dialogue titled 'Transforming Asia through Innovation' at Singapore's prestigious Nanyang Technological University, Modi spoke about the biggest challenges before the world, in particular Asia.
"The biggest challenge before us is that the 21st century belongs to Asia. But do we have this sentiment, I think that is the biggest challenge," he said.
Modi said the notion that disruption makes destruction was not correct.
"Every new innovation looks like a disruption in the beginning. Technology driven society helps in countering social divide," he added.
Technology has to be affordable and user-friendly, he said, adding a technology-driven society breaks social barriers.
"We should not see every disruption as destruction. People were apprehensive about computers but see how computers changed human history," he said.
Modi said skills for the digital age, creating adequate jobs in the age of digital reception, agricultural productivity, water, pollution, rapid and mass urbanisation, climate change, building sustainable infrastructure and protecting the blue economy were some of the common challenges facing humankind.
"These challenges require collaboration among governments, universities and laboratories. Policy interventions are important, a lot of finance would be needed given the scope and magnitude. We need innovation and technology to address these challenges," he said.
Modi cited a report by an American university on the economic development of 2,000 years according to which he said India and China contributed to 50 per cent of the world GDP for 1,600 years.
"It is only the last 300 years where we find the dominance of the western world," he said.
"If we can overcome our internal problems, this interconnected world that we have if we can transform that into opportunities in the service of humanities for peace and for harmony then we together can make a huge contribution.
"In human history, India and China have dominated global trade for centuries. At the same time, there was no conflict. We must think of furthering connectivity without any conflict," he said.
Modi cited the example of how space technology can be used for weather prediction, water harvesting and helping fishermen.
When asked whether he sees any conflict between tradition on the one hand and globalisation and modernisation on the other, Modi said, "If technology if used to make weapons, then it gives rise to conflicts...But if innovation and technology are combined with human values, then in the service of humanity, the kind of force multiplier that it has cannot be imagined."
"As we went through the centuries, there was innovation, but in all this at the heart of this was ethics, values and human values....Technology can contribute in a big way if it also combined with values," he said.
He said technology is aiding human creativity and various social media platforms have given voice to millions.
"We have progressed through the ages due to innovation and due to ethics as well as humanitarian values," the prime minister said.
"In the wake of depletion of natural resources, new technology will help in evolving new alternative ways for human race to sustain. New technology can and will help in finding ways for natural energy," he said.
During his visit to the university, six agreements were signed to strengthen academic and industry partnerships between NTU and leading Indian universities and institutions.
Modi was accompanied by Singapore's Education Minister Ong Ye Kung.
He also visited an exhibition being held at NTU and interacted with a social robot which can communicate with humans by following rules attached to its role.
He also planted a Neem tree in the campus of the university to commemorate his visit.