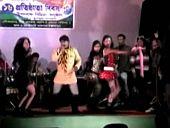 The Trinamool Congress on Wednesday said there was no need for West Bengal Chief Minister and party president Mamata Banerjee to offer an apology for some of its party workers taking part in a function in which women dancers were hired to perform an alleged erotic dance.

District-level TMC leaders and activists were caught on television throwing money on the hired women dancers during the function on Tuesday, leaving the party leadership embarrassed.

The function was organised by Trinamool Congress district level leaders in Bhangore, near Kolkata.

Trinamool Zila Parishad member Meer Taheer Ali is widely believed to have arranged the women dancers for the celebrations that took place right opposite the local police station.

TMC Member of Parliament and party spokesman Derek O'Brien said the matter is being looked into and added that appropriate action would be taken against those people who had shown both cultural and gender insensitivity and insensibility.

O'Brien said there was no need for the media to play the dual role of both judge and executioner in the matter.

A television channel described O'Brien's reaction as patronising.

O'Brien reiterated that a statement on the incident has been issued in which it was also stated that the party had organised several commemorative programmes across the state to mark Trinamool Congress' 15th foundation day.

The recording of the programme was also aired on local television channels.

The controversy comes at a time when the entire nation witnessed muted New year celebrations as a mark of respect for the 23-year-old Delhi student who died 13 days after she was brutally gang-raped and tortured by six men in a moving bus.

The controversy is likely to embarrass Banerjee, particularly at a time when security of women is high on the government's agenda and clamour for stringent laws to deal with crimes against women is growing louder.